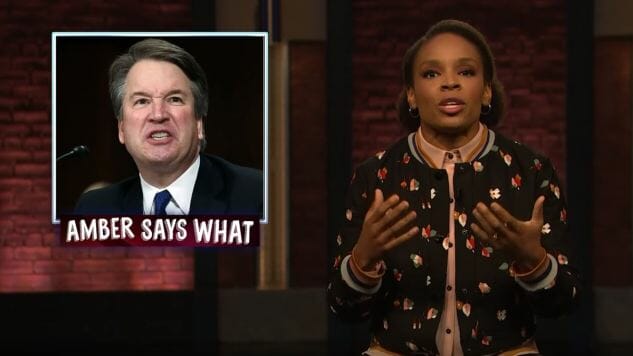 I can't blame you if you try to avoid the news today. (I think her near total news blackout is the only thing keeping my wife sane right now.) It's an especially bad time for the world and sometimes it just feels healthier to ignore it.
At the same time, that might make you feel guilty. Irresponsible, even. If we want to make this a better world we should probably know what's going on in it, and all that. How can we balance our own mental health with our civic duty to keep track of what's happening in our world?
Amber Ruffin might have the best answer to that conundrum. The Late Night writer returned last night with a new installment of Amber Says What, once again running down some of the biggest stories of the last few weeks with the only reaction that anybody should have to any of them. From Brett Kavanaugh to Bill Cosby to Donald Trump's Mario Party-ruining penis, Ruffin makes sense of the maelstrom of nonsense we seem permanently trapped within. Check it out below.