This Grown Ups 3 Spec Script Needs to Be Produced, Hollywood
Photo courtesy of Getty Images
Comedy
News
adam sandler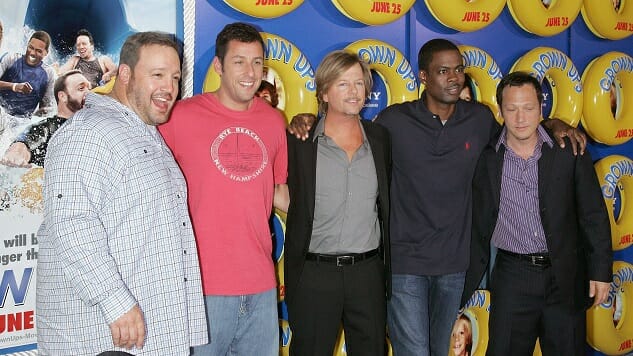 Last year Tom Scharpling—the star of The Best Show, the director of some of the best music videos of recent note, and a TV writer/producer who has worked on shows including Monk and HBO's Divorce—produced one of his greatest works yet. It's a spec script for Grown Ups 3, the final film in the Grown Ups trilogy, starring Adam Sandler and his friends Kevin James, David Spade, Chris Rock, Rob Schneider, Nick Swardson and Allen Covert. It is a script that will almost definitely never be made into a movie, which is a true indictment of the entertainment industry—something this brilliant deserves to be produced. The world deserves no less.
What makes it so great? Well, read it for yourself. Scharpling released the script into the world earlier this week, letting everybody who's interested read the perfect conclusion to Sandler's popular series of comedies. It would ruin the thrill to tell you too much, so all I'll say is that there's a clever meta twist at its heart,and it spins out in directions that you won't be able to predict. I actually wound up interviewing one of the producers of Grandma's Boy and a Deuce Bigelow movie earlier today, and we briefly discussed Scharpling's script; he hadn't read it yet himself, but based on my (probably mangled) description of it, he seemed to think that Scharpling had accurately captured the personalities of all the actors. Basically it will ring true if you're all that familiar with Sandler's friends and their body of work, is what I'm trying to say.
In April 2019 I wrote a script for GROWN UPS 3.

I was not asked to write it.

It is the best thing I will ever do in my life, professional or otherwise.

And here it is, my first gift to everyone in 2020.https://t.co/eRg3crXXFT

Read it! Enjoy it! Sign the mailing list!

— scharpling (@scharpling) January 6, 2020
Why did it take so long for this to see the light of day? Well, because the world hates beautiful things. They wilt under the harsh pressure and unforgiving scrutiny of the public eye, in part because we, as a people, hate and fear what we don't understand—what we can't understand. And as direct and concise as Scharpling's script is—as confident as it is in its single-minded pursuit of its own clear goals—it's still not what most people would expect from a Sandler film, and definitely not from a Grown Ups sequel. Scharpling is an artist, and yes, this is art—and so obviously the industry has no interest in making it.
Okay, I'm obviously overselling it a little bit here. I am a fan of mock profundity and pretentious oratory, especially when I'm drunk in a Vegas hotel room during the overwhelming miasma that is the Consumer Electronics Show. I am not exaggerating my love of this script one bit, though—I read the whole thing in a single sitting at a bar at the Mirage yesterday, and it was easily the highlight of my day. Even more so than the toilet paper robot. Scharpling's Grown Ups 3 script might be a goof, but it's also more than that—it's a legitimately hilarious riff on the personas and careers of some of Hollywood's biggest comedians (and their less successful friends), and also a canny piece of genre work that incorporates multiple disparate genres. You should read it. Thank you.
---
Senior editor Garrett Martin writes about videogames, comedy, travel, theme parks, wrestling, and anything else that gets in his way. He's also on Twitter @grmartin.