5 Things We Learned from the Cast of Difficult People
Photo by Rob Latour for the Paley Center
Comedy
Lists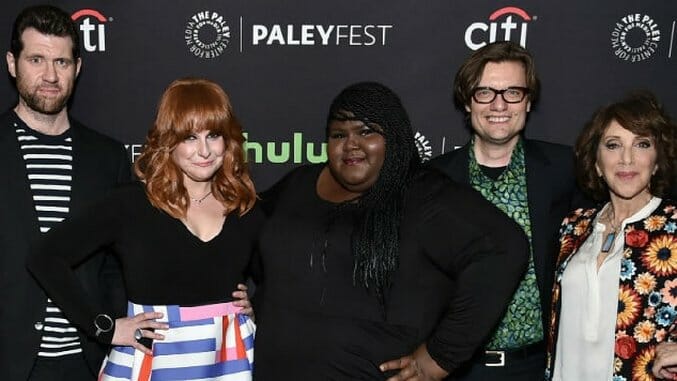 The cast and creatives behind Hulu's comedy Difficult People were toasted at last month's PaleyFest, an annual TV festival in Los Angeles. Creator, writer and executive producer Julie Klausner was joined at the Dolby Theatre in Hollywood by cast members Billy Eichner, Gabourey Sidibe, Andrea Martin, James Urbaniak and Cole Escola on the red carpet. Later, they were joined by showrunner and executive producer Scott King on stage to answer questions from comedian and moderator Patton Oswalt.
In his introduction to the panel, Oswalt described the acerbic show as one of those "venomous, squirming comedies…and I mean that in the best way." Difficult People, which just wrapped production on its second season, follows the misadventures of aspiring comedians Julie Kessler (Klausner) and Billy Epstein (Eichner), who elevate the obnoxious New Yorker stereotype to the nth degree. The show's art—and humor—lies in the lead characters me-centric attitudes and an equal churlish treatment of celebs, frenemies and families alike.
Here are five things we learned about Difficult People from the not-so-difficult cast:
1. Both Martin's and Urbaniak's roles were written for them…
Andrea Martin, who plays Julie's challenging, narcissistic mother Marilyn, was a crowd favorite at the PaleyFest. Oswalt called the comedy legend his "first comedy crush" and reminded the audience that she was on SCTV (alongside John Candy, Eugene Levy, Catherine O'Hara, Harold Ramis and others). Urbaniak plays Arthur, Julie's ever-patient boyfriend, who works for PBS. In the upcoming season, we see that Arthur gets into a serious rivalry—on the basketball court—against the NPR team.
2. Sidibe modeled her character after someone she knew…
"I'm closer to Denise than any other character I've played," Sidibe said of her Difficult People counterpart, who owns the restaurant where Billy works. "I think she gets to say things that I'm too polite to say in mixed company." During the panel, she revealed even more about overbearing Denise: "She's based on a real horrible boss I had." Sidibe, who worked with the aforementioned person while tutoring at-risk kids, didn't mince words: "My boss was a huge bitch," she said. "She was like the worst person I've ever met."
3. New York as a character.
"I think like Seinfeld or Sex in the City, New York informs the show," Eichner told us in the pressline. "Julie and I both happen to be native New Yorkers…and we have a lot of sort of typically New York attitudes that we exploit on the show, so I don't think the show could happen anywhere else—and I think Julie would agree." Eichner also gave us a little insight about his own character's journey in season 2: "Something happens very early on in the season which leads him on a path to try and find a boyfriend, which he's really never had. Trying to become an adult, trying to become more emotionally mature and find a relationship. And in that way, I think the emotional life of the character is definitely growing, and that's something that I'm really excited about…so it's not all show business this year for him."
4. What comedies does Billy Eichner watch in his downtime?
Between his shows Difficult People, which just wrapped, and Billy on the Street, which is currently in pre-production, Eichner's a pretty busy guy (though he's not complaining). We asked what comedies he's watching these days. "I usually pick one or two things that I like, and I try to watch those. I'm watching The People vs. O.J. Simpson," he said. "Not a comedy, but it has its moments….I'm also obsessed with the election, so that's cut into the time, which has been the most entertaining thing to watch."
5. A new cafe addition…
Also in the pressroom, Klausner said that Difficult People's second season is more polished than the first. "[Season 2] took us longer to write because we had time to write it. And so we were able to work with themes instead of endings and work backwards," she said. "We were able to play more with the character dynamic now that we've established who the characters are. It was a lot more fun to have two person scenes with characters you've never seen interact before." Klausner said to look for scenes between Marilyn and Arthur, who hate each other, but will have to collaborate on Julie's TV recaps one night when she's sick. Or look for an Arthur and Billy scene at the cafe. "The only thing they have in common is me, but they have to figure out this problem that Arthur is dealing with."
Klausner's just as excited about a new staffer at the cafe: Lola (played by transgender actress Shakina Nayfack) is a "trans truther" waitress. Klausner clarifies the character's beliefs, when we mistakenly assumed that "truthers" leaned to the right on the political spectrum: "She's a 9/11 truther. Not a right-winger, but she believes that 9/11 was an inside job," she said. "Ask Rosie O'Donnell. Truthers come in all shapes and sizes."
---
Difficult People's second season returns to zing everyone later this year on Hulu.
Christine N. Ziemba is a Los Angeles-based freelance pop culture writer and regular contributor to Paste. You can follow her on Twitter.