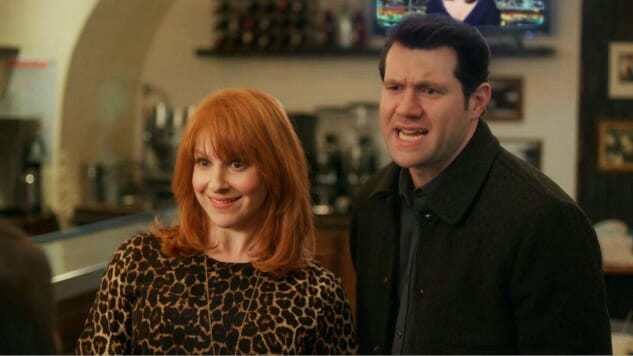 Hulu's Difficult People is a comedy that follows the characters of New Yorkers Billy (Billy Eichner) and Julie (Julie Klausner) as they struggle to achieve professional success amid a series of dead-ends in their work and personal lives. They know they're brilliant—they're just annoyed that no one else appears to be catching on.
After the successful first season run on Hulu in 2015, the series (which was shepherded in part by executive producer Amy Poehler) is back for season two, which premiered on the streaming service on July 12. New episodes are available every week. The show was created by and stars writer-comedian-podcaster-actor Klausner, who has written for shows like Billy on the Street, The Big Gay Sketch Show and Best Week Ever, and hosts the podcast How Was Your Week? Not watching the show? Here are five reasons why you should probably go ahead and change that.
1. The guest stars…the guest stars.
What other show will pack Hamilton star and creator Lin-Manuel Miranda and two of the Real Housewives of New York City into one 30-minute comedy, and do it with aplomb? Literally no other show, people. Last season featured guest stars like Amy Sedaris, Fred Armisen, Ana Gasteyer, Debbie Harry, Kate McKinnon, Seth Meyers, Kathie Lee Gifford, Rachel Dratch, Martin Short and Bridget Everett, among others. This season, look for even more familiar faces, such as Tina Fey, John Mulaney, Sandra Bernhard, Nathan Lane and Julianne Moore, just to name a few.
2. There are Gilmore Girls-level pop culture references.
The signature pacing of Difficult People, in the second season as well as the first, lies in the rapid-fire way Julie and Billy exchange pop culture-laced banter. They joke about Twitter and writing TV recaps, muse about Anne Hathaway's reproductive organs and the subgenre of Millennials dressing like it's the 1920s again, and bring up everything in between—and that's just episode one. Though potentially bordering on esoteric at times, the show instead embraces the inside joke by packing jokes in so densely, and zipping through them so quickly, that if you don't get it, no big deal, the next swing (or joke) will surely hit it out of the park.
3. It's laugh-out-loud funny.
Even those who don't obsessively monitor social media or call NYC home can appreciate and enjoy Difficult People, purely for the fact that the writing is so damn funny. Klausner has written her character Julie to possess a deep sarcasm and penchant for wearing her misanthropy on her sleeve, and that pairs unbelievably well with the Billy character's venom-tongued insults that spew from his mouth like a diss-filled geyser whenever he feels slighted or misunderstood (which seems to happen often). Klausner has an uncanny ability to turn subtle idiosyncrasies and personality flaws into full-blown comedic plot points that will guarantee LOLs. (Or L-ing OL, whatever.)
4. It's set in reality.
Sure, the show is a comedy based in NYC—but Friends, this ain't. You won't find any Sex and the City-style fiscal discrepancies, either. Though not exactly at the top of their game, Billy and Julie lead realistic lives in an identifiable way while in pursuit of their "big breaks" involving comedic fame and fortune. Billy works at a coffee shop, while Julie writes recaps of reality shows (a gig Klausner once had for Vulture.com IRL). In episode one, Klausner unabashedly instructs her partner to steal their neighbor's WiFi when hers goes on the fritz. Isn't that much more refreshing than watching someone drop $400 for a pair of shoes on the reg while living off of a single dating column a week?
5. The cast is refreshingly diverse.
Even though shows like HBO's Girls have done a great deal to help the television industry progress when it comes to portraying both women and Millennials in a more honest, less high-gloss light, there's still rampant whitewashing, tokenizing and leaning on stereotypes pervading much of network programming these days. Thus, it's a welcome change to see gay, minority, trans or plus-size characters (all of which appear on the show) with nuanced roles that don't necessarily make those identifications the center of their storylines. Here's hoping they blaze the trail for more shows to follow.
---
Caroline Cox is an editor at arts site CommonCreativ ATL, a freelance writer and the content marketing specialist at a tech startup in Atlanta, Georgia. She has contributed to publications including Nylon, VICE, The Guardian, The Daily Beast, BuzzFeed, Brooklyn Magazine, Complex, Broadly, Thrillist and Racked. Follow her on Twitter at @carolinecox because "Roses" by OutKast is about her.