This is the first of a series of travel guides over the course of 21-year-old Tobi Thompson's 48-state Road Trip. Read about her motivations behind the budget-friendly endeavor here.
Though L.A.'s population is overwhelming and frustrating, driving northeast to Arizona is a very bland, hot drive. Boiling in the car as the wind tunnels wedged between mountains steers your car sideways is the first step toward our adventure of a 48-state road trip.
Between camping at the Grand Canyon for a night and a visit to the Four Corners, there are a lot of opportunities to get lost. The hidden beauty tucked in the Antelope Canyon of Page, Arizona, is one thing we overlooked, out of patience as we twisted around and studied maps. Instead we looked forward as we headed toward the Four Corners Monument—only to find it closed by 5 p.m. But these setbacks don't overshadow the sights that we did catch. Don't miss these at the Grand Canyon, Four Corners, Santa Fe, and an overnight in Roswell, New Mexico.
Grand Canyon
In the wintertime, only the South Rim of the canyon is available for sightseeing and hiking, but since the Grand Canyon's lowest elevation point is still higher than sea level at approximately 2,000 feet high, dress warm. The weather, though, effects little about America's biggest and best natural imprint.
To get the real experience, camp at the grounds in the park—even if it's the middle of February. It's only $15 (plus the original Canyon entry fee of $25 per vehicle), and you can easily split that between your friends. The sight of the stars is well worth the clouds of your breath and the sounds of coyotes howling in the safe-enough-away distance in the middle of the night. Every twinkle is visible and each constellation is unquestionable.
Watch the sun peek over the cliffs of the canyon and be sure to visit the free Yavapai Geology Museum. The building rests along one of the Canyon's edges with panoramic windows panning across an incandescent view. Along the Rim's trails and sightseeing points lie several other studios and visitor centers employed by friendly greeters that direct you for your personal needs. Let them show you the way to the free shuttle system: Hermit Road is among the most scenic drives and is only available to all vehicles during January and February. During busy season, it closes for shuttle buses only.
And when you're driving through at any point, don't forget to stop.
With much to see (or not—know your maps) around Page (like Antelope Canyon, The Wave, Horseshoe Bend, Lake Powell), the reds and oranges that blend through land and several canyons make any drive from the Grand Canyon's South Rim on Route 64 East well worth any frustrations you might endeavor trying to find those hidden sweet spots. Stop and take pictures—though snapshots of each of the Grand Canyon's crevices and shadows, with a trailing river flowing through the bottom, will do nature's enormousness no justice.
Four Corners Monument
Eventually, you'll land yourself at the Four Corners Monument. A short time spent in Utah, Colorado, Arizona, AND New Mexico is still memorable with its vendors lined in a square formation outside the middle point itself. Most vendors, of Navajo descent, sell their hand-crafted designs, pottery, jewelry, and more for fair prices. Admission to the Monument is $5. And after you've considered yourself lucky enough to be in four states at once, you might catch some horses casually hoofing around on your drive out.
Santa Fe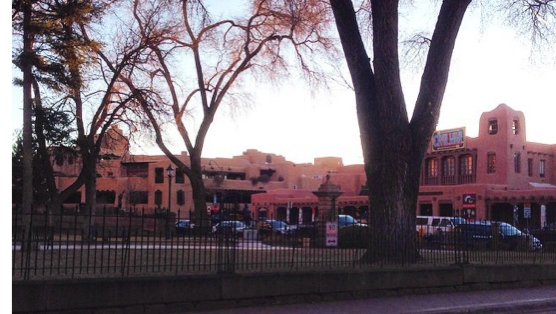 If you weren't quite sure what to expect from Christian Bale's role in Newsies belting about how Santa Fe was always waiting for him, now is the chance to understand. Although the earthy, low-rise adobe buildings all look the same—save, especially, for the Cathedral Basilica of St. Francis of Assisi—from the outside, Santa Fe doesn't cut short of details within.
New Mexico has a culture subtler than the pride in Texas but more distinct than a New York accent: between being considered America's grand West and sharing historic civilization in ancient pueblos, Santa Fe is proud to show off shops filled with cowboy boots right alongside Native American craft. Outside the souvenir shops in the city plaza, the streets are lined with endless art galleries. No matter which building you visit, no wall is to go missed of art; between the traditional stained glass windows, and bright, intricate tile designs in a visitor's bathroom, the art and culture are what Santa Fe lavishes. Even down to the very last cupcake, every local seems to hold some artistic talent, a Dream Cakes Gourmet Cupcakes frost and design is delicately handled.
For the Night: Roswell, New Mexico
As the UFO capital, the dry little town of Roswell thrives on strange. And that's why camping at the site in the RV Park is the way to do it. Take a $2 tour through Space Walk or a $3 interactive, photo-friendly alien "museum" in Alien Zone. Each is silly, but cheap for the kid-at-heart. Roswell's McDonald's decor is even wrapped in a UFO, filled with a rocketship jungle gym and astronaut-themed characters. (P.S. McDonald's has free wifi. Who needs Starbucks?)
Unfortunately: no alien sightings.
Survive this Trip:
-Camp above lodge: Most have bathrooms available and each campsite includes a fire pit and picnic table. (Red Barn RV in Roswell had free wifi as well as washer and dryers, microwave, showers, and an open lobby for all).
-Bring a lantern. We were prepped with four flashlights, but try boiling water over a propane stove for your first meal in eight hours. A lantern is important.
-Set up camp before the sun sets. Do this with dinner, too, but when the sun sets at 6pm, you're hungry again later.
-Gas stations are few and far between in these parts. Never let your tank go lower than a half or a quarter tank. Count mileage in between gas stations to get a feel for how frequently they may crop up.
-The deserted land and roads in northern Arizona and New Mexico makes for a very long drive that encourages speed, which is why, yes, cops still hang out in deserts.
-Don't buy any food. You can do this. It's called Costco. Our trunk includes four loaves of bread, two jars of peanut butter, two jars of jelly, two bunches of bananas, a bag of clementines, a bag of apples, a few cans of tuna, six boxes of Pop Tarts, three bags of cereal, a large box of Oatmeal, 12 individual cups of mac and cheese, 54 Rice Krispy Treats, 48 small bags of chips, and both bottles and gallons of water. Hopefully your friends along the way will offer a meal when you visit their state, too.
-New Mexico and Arizona are barren: even in 2015, service is sparse. Wifi is a blessing. So, yes, if you have to go to a UFO-inspired McDonald's, go.