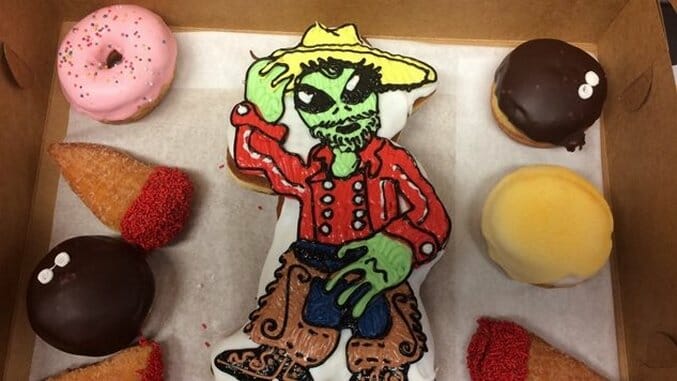 Who in their right mind would wait in line for hours just to get a doughnut (raises hand). Yes, that's right. I am guilty of braving the wind and rain just to get a taste of some delicious maple topped with bacon. Crazy? Maybe, but after all, this isn't just any doughnut, it's a Voodoo Doughnut.
Known for the experience as well as the unique appearance and names of their doughnuts, Voodoo Doughnut—where the magic is in the hole—has been serving up a variety of tasty treats since 2003. And with choices like the Voodoo Doll, Bacon Maple Bar, and Old Dirty Bastard, it's no wonder owners Kenneth "Cat Daddy" Pogson and Tres Shanon are loving what they are doing.
Probably best known for their signature Voodoo Doll doughnut, this popular choice among followers is filled with raspberry jelly—which oozes out like blood when you bite into it—and topped with chocolate frosting, along with a pretzel stake jabbed in just the right place.
The duo serve up more than 50 different doughnuts, including custom orders and tribute doughnuts—which are created when a historical figure, prominent icon or famous person/athlete leaves this world. Sugar lovers can get a taste at one of their seven locations in four states, including: Oregon (Portland—2 locations and Eugene), Texas (Austin), California (Universal City) and Colorado (Denver).
Paste chatted with the owners, Pogson and Tres, along with Sara Heise, Executive Wrangler and Wedding Coordinator, to find out what exactly makes this place so irresistible.
Paste: Why doughnuts?
Voodoo Doughnut: To this day, there is no proof there was ever a doughnut shop in downtown Portland before Voodoo Doughnut. From the womb to the tomb, everyone loves doughnuts. They just made great business sense.
Paste: What was it like not knowing anything about the doughnut business, yet choosing to move forward with the business idea anyways?
Voodoo Doughnut (c/o Sara Heise): You can plan for your business all you want, but there was also a lot of trial and error along the way. They had the notion that you must have a great product first and then comes the fun stuff. Their charisma, relationships and just being all around good guys got them the connections needed to learn how to make doughnuts. Let's just say they worked a lot of 12-14 hours shifts to get their business off the ground, but they had true grit and believed in themselves every step of the way.
Paste: What is your business model and philosophy?
Voodoo Doughnut: Both of us come from service industry backgrounds and understand both sides of the equation. We have stakes in how the customer is treated as well as how our employees are treated and we approach our business considering both. Our business got up and running on the sheer determination of the two business owners, who put their dream on the line and put in the sweat equity over and beyond the normal call of duty.
Paste: Why do the two of you work so well together? How have you made a partnership work?
Voodoo Doughnut: We work well together because we took our time building our friendship before we went in to business. We have made it last because we communicate and always work to get to a point and not work to get into an argument.
Paste: What are some of your most popular doughnuts with customers? How about the most popular with the employees?
Voodoo Doughnut (c/o Sara Heise): Hands down, the most popular amongst customers would include our Bacon Maple Bar, Voodoo "Doll" Doughnut, Old Dirty Bastard, Portland Cream and Memphis Mafia. We have quite a few employees that love the Mango Tango. Other employee favorites would include the Diablos Rex, Classic raised glazed and buttermilk bar.
Paste: Voodoo weddings?? What is that about and why?
Voodoo Doughnut (c/o Sara Heise): We planned on doing weddings from the start. If you are going to do Voodoo, you need to do some rites every now and then. What better rite than the happiness that surrounds a wedding? We did our first wedding about one month into being open and now average anywhere from 80-100 annually.
Paste: Why do you love what you do?
Voodoo Doughnut: How could you not love what you do when you get to make up what you do? This is our ride and we got to plan it, make it happen and enjoy every loop de loop. It is a very humbling experience watching this little idea get the accolades that it has. It is also a very boosting experience to know that your ideas have traction outside your own head and immediate surroundings. It can get so surreal when you are doing promo with the likes of Vanna White and Twin Peaks, remembering that you were just a person with a crazy idea just a few years ago.
Paste: What's next?
Voodoo Doughnut (c/o Sara Heise): We are gearing up for the grand opening of our newest location at Universal City Walks in LA (note—since this interview was conducted, this location has opened). With our slow growth we are making sure the Voodoo culture stays intact and will plan to expand more in the future…. World Doughnut Domination!