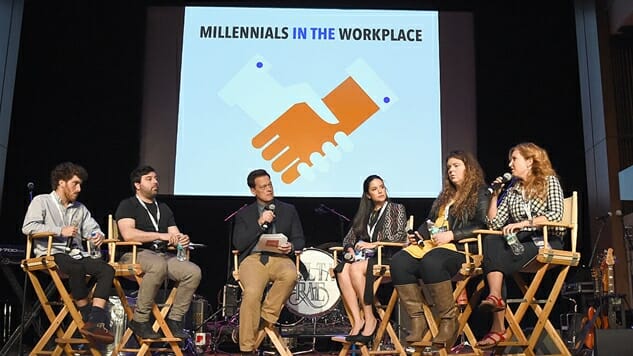 There's no denying it: Millennials are changing the way we do business—forever. And for an "older" Gen X-er like myself, I can't wait to see what they come up with next!
But, I may be a minority in my thinking, when it comes to the admiration I have for this younger generation and how they view the workplace. Many Baby Boomers and Generation X employers are struggling to connect with the employees half their age. This older workforce believes strongly in loyalty and commitment to a job—no matter what—and for Millennials, sticking with something they don't believe in is not one of their core values.
A new study just released out of the University of Missouri-Columbia reveals that the one reason why young workers choose to leave a firm is that they find a disconnect between their beliefs and the culture they observe in the workplace.
"We were interested in workers' values regarding sustainability and corporate sustainability practices and whether a gap existed," said Rachel LoMonaco-Benzing, a doctoral student in the MU College of Human Environmental Sciences. "Not only did we find a gap, but we also found that workers were much more likely to leave a job if they felt their values were not reflected in the workplace."
For the study, LoMonaco-Benzing and Jung Ha-Brookshire, an associate professor of textile and apparel management, and associate dean of research and graduate studies in the MU College of Human Environmental Sciences, respectively, interviewed employees in the textile and apparel industry involved in corporate supply chains. They found that workers expressed the most frustration if their employers touted a commitment to environmental sustainability publicly but did not follow through.
"Fewer people of this generation are just looking for a paycheck," Ha-Brookshire said. "They have been raised with a sense of pro-social, pro-environment values, and they are looking to be engaged. If they find that a company doesn't honor these values and contributions, many either will try to change the culture or find employment elsewhere."
How This Affects the Workplace
This sense of pro-social/pro-environment values they have is empowering many Millennials to take risks and be bold. They are seeing the world through a different lens and want to change it. Their passions and inspirations define what they do for a career and consequently drive many of their workplace decisions. And for a generation that is committed to doing good, they are changing the way we all view the workplace and how we interact with it.
There is an obvious need for businesses to rethink and reshape the way they appeal to this newer generation. According to the study, to attract and retain the best employees, the researchers encourage companies to understand that the new generation of workers has high ethical and social expectations.
And in case the Baby Boomers and Gen X-er's of my generation need some actual proof that these younger employees are brilliant, creative, and worth hiring, you don't have to look much further than the hugely successful Millennial companies which have perfected the business of doing good.
Chris Bledsoe, co-founder of Ollie, a start-up devoted to "all inclusive living," shared with me that his company has a set of core values they always stick to. "What we are doing is meaningful, and we have a mission and conviction to see that this product exists," he says. "The size of the problem we are solving feels like we are doing something purposeful and that is what matters."
For Ty Collins, one of the founders of Rad Power Bikes, a direct to consumer electric bike company, the love for what they do is evident in the passion and drive they put forward each and every day. "We get to come to work every day and are surrounded by like-minded people who are just as passionate about ebikes as we are," says Collins. "Then we get to design, market, and share our passion with the world," he added.
Claire Coder, founder of Aunt Flow, a buy-one-give-one subscription service box for 100% cotton tampons, has a unique mission: to create a sustainable solution that provides menstrual hygiene products to people in need. Her core belief: business is about what you are passionate about and believe in. "I understand that tampons won't solve poverty, but ensuring that women have access to their basic needs is a start," Claire says.
And then there's the core belief in sustainability and equality that drives every decision the owners of Jaswig, a stand-up desk company, uses in their business model. Co-founder Mathias Ellegiers says there is one central theme that drives everything they do: "Our philosophy reflects in every aspect of our company, resulting in a durable, human-centered and environmentally-conscious business, products, and relationships."
And it's no coincidence this business philosophy directly matches the employee's personal views of health and sustainability. "Everyone working at Jaswig is an equal human being and has a voice," says Ellegiers. A philosophy that I'm sure can be echoed by many in this generation.