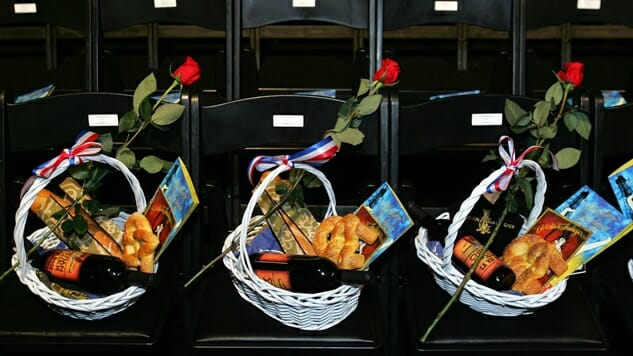 Tom Donigan didn't know of many subscription boxes before a few years ago. For him, finding new foods was something he did in the grocery store. But he understands that not everyone has access to the gourmet groceries of Brooklyn.
"I liked the hunt, the discovery process of doing it myself." He explains. This explains his enthusiasm when Field Trip Jerky company for which he is a founding member—was approached to be part of a subscription box. Why not bring the discovery process to those who wouldn't usually be able to access his Brooklyn jerky?
Food-based subscription boxes have been booming. Companies like Mouth and Treatsie have exploded with a bend toward emphasizing indie food brands. Order a box of random treats, and you might get something you only would have encountered previously while traveling through a random state on a road trip.
It's a novel experience. But does it really help the food brands themselves? In a word, yes. But not in a way obvious to the consumer. While certain subscription boxes present themselves as a consistent purchasing client to brands (Mouth being a notable example), that's not the main reason most brands choose to participate.
What's the main motivation? Marketing.
Often brands will be solicited by boxes looking for goodies to send their customers. Some brands seek them out for inclusion, and vet the boxes that reach out to them very carefully. None of this is by accident.
Why? They want to impress you, the consumer. For every little doodad that you receive in a box, there's an indie brand behind it that's desperate to hear what you think. By subscribing to a box, you're most likely their prime customer. You're (ostensibly) willing to try new things and will listen to recommendations given by people you trust. Reaching you is the entire point.
However, being part of a subscription box isn't a guaranteed ticket to success. It's more of a stress test that can reveal things to a brand's owners that may not have been obvious until they were suddenly, without warning, box-famous.
For Meghan and Paul of Megpies, they didn't know which of their products the people wanted until the subscription boxes told them so. Their original intent was to create a pastry shop with various offers. But the demand for their specialty handmade tarts (you know, the ones at Starbucks) was so great that they decided to narrow their focus.
Not that they're complaining. It's pretty easy to phase out scones from your menu if you're experiencing a "run on tarts." And the reaction to their product has been overwhelming, they've never looked back.
"It really helped us grow," Paul says. "I don't think where we'd be without subscription boxes."
A real subscription box fan knows that there are two types of boxes: regular and periodical. Regular subscription boxes come every month or every few weeks and tend to contain smaller items. Periodical boxes come once a season or quarter and can include full-size or premium items (a la FabFitFun).
It seems counterintuitive that being featured in a single periodical box might jump start a brand. But Teresa Tsou, president of Pipsnacks, would strongly disagree with that sentiment. Being featured in the 2014 Popsugar Must Have Box was one of many notable media appearances that put the brand in focus for a nation. It was a great follow-up to being listed as one of Oprah's favorite things two years earlier.
For Pipsnacks, subscription boxes are all about the long game. "The assortment [aspect of boxes] is helpful because the person receiving the box is in a mindset of discovery," Teresa explains. "So then when they go to Whole Foods and they see the Pipcorn… they're more likely to buy it."
But are they? It's surprisingly hard to trace. Box recipients aren't asked to rate the products they receive on the individual brand websites. It's exceptionally rare to receive a coupon code for a site that would then, in turn, reveal customer activity (and even preferences). The main indicator is social proof. The people at Pipsnacks love seeing your Instagram photos and unboxing vids—they're all proof that they made the right choice in terms of subscription box. They're likely taking notes the entire time.
Especially if you're the type of customer that the brand was never expecting to have. Eric Rion of Willa's Shortbread attributes a lot of his company's success to the exotic nature of the American South. If you're a foodie living in Brooklyn, you're not as likely to come across Tennessee Whiskey cookies. A box is a chance to sample the flavor of a different area of the globe, something Eric is happy to exploit.
Though to be fair, different subscription boxes have different expansion plans that can work to the benefit of entrepreneurs. Mouth has expanded their general store offerings. Brands that work with them have the opportunity to be part of a perpetual storefront for indie food lovers. Made South has live markets spotlighting their artisans (Eric speaks fondly of them).
When you're in the weeds with specialty boxes, the expansion comes with the service alone. Zac Taylor of Calicraft Brewing Company is happy to be part of subscription services like Craft Beer Club because they're the ones doing the research on the legality of what can be sold where. They're knowledgeable liaisons between brands and customers.
"It's not easy to get small brew companies' [products] in your hands because they don't have distribution," Zac explained.
But therein lies the rub. The social proof that people outside California loved Calicraft was enlightening to Zac and the gang. But after his moment in the sun faded, he was still without the proper distribution channels to bring beer to those new fans on a regular basis. The company plans to expand to Southern California in 2018 and hopefully the East Coast by 2019. Until then, they're limited by their radius and may end up relying on subscription boxes longer than the average artisan.
One artisan interviewed for this piece guessed that a subscription box that costs the customer $50 probably contains around $20 of product. But don't feel bad for the brands that contribute to these boxes. It's not about the raw money. It's about seeing what the customers have to say about the product. Losing $20 on one bag of popcorn is worth it if a new customer in Las Vegas likes it and starts buying it off the shelf regularly. Or even better, if they discover it's not at their local Whole Foods and order it online in a huff.
The test of a brand's success is what they do after being featured in a box. They're akin to small town talent shows: The moment in the spotlight comes to everyone. But to some, it's a boost to nowhere.
Brit McGinnis is an author, copywriter and finance writer in Portland, Oregon. Her work has been seen in The Billfold, Business2Community and many fine outlets. Lewis Black once wished her good luck.