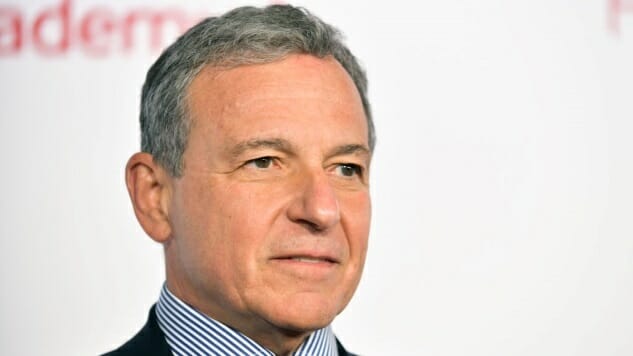 Robert Iger, the sixth Chief Executive Officer of The Walt Disney Company, has stepped down, effectively immediately. His successor is Bob Chapek, who oversees the company's theme parks and merchandising as the chairman of Walt Disney Parks, Experiences and Products.
Iger was the president of Capital Cities/ABC when Disney acquired the company in 1995, and from there became the heir apparent to longtime Disney CEO Michael Eisner. When Eisner was forced out in 2005, Iger moved up to the top spot in the company, and during his 15-year tenure as CEO, he oversaw the company's acquisitions of Pixar, Marvel Entertainment, Lucasfilm Ltd. (including the Star Wars franchise), and 21st Century Fox. Iger's time at Disney also saw the construction of the Shanghai Disney Resort, expansions to multiple Disney parks in America, and the launch of the Disney+ streaming app. His sudden departure comes as a surprise, but he has been expected to leave the company twice in the past before his contract was extended both times, and his current contract was set to expire at the end of 2021. He will continue to serve as Executive Chairman of the company's Board of Directors until December 2021.
The news immediately opened up speculation about why he was stepping down. Again, his departure was expected sooner rather than later—he just turned 69 earlier this month—and there's not much from a performance perspective that would seem to necessitate a quick removal. Under Iger Disney has become a media behemoth of a size that once seemed impossible, and has dominated the theatrical box office for years with its run of Marvel, Star Wars and animated movies. Iger himself explained in a statement that he was stepping down because, "with the successful launch of Disney's direct-to-consumer businesses and the integration of Twenty-First Century Fox well underway, I believe this is the optimal time to transition to a new CEO."
According to CNN, in an investor call this afternoon Iger discounted "some of the speculated reasons for a hasty exit, such as a health crisis or a late entry into the presidential race." He reportedly wants to have more of a creative role at the company, whatever that might entail.
So who's Bob Chapek? He's the former head of Disney's retail operations who was appointed atop the theme park division in 2015. The two were later merged, putting Chapek in charge of parks, retail, licensing and merchandising. Under his watch there's been an expansion of recognizable media properties within the theme parks, from the Guardians of the Galaxy ride that the Tower of Terror was converted to in Anaheim, to the upcoming Mickey and Minnie's Runaway Railway that opens in the former location of the Great Movie Ride in Hollywood Studios next week. Under Chapek the theme parks have launched such projects as Star Wars: Galaxy's Edge, Toy Story Land at Walt Disney World's Hollywood Studios, the various Avengers Campus areas coming to Disney parks around the world, and a massive overhaul of Epcot that will see new experiences based on the Guardians of the Galaxy, Ratatouille, Moana and more. He can be a polarizing figure among theme park fans who are wary of modern intellectual property intruding on beloved, decades-old spaces, but he has presided over a period of large and sustained investment within the theme parks, with new developments opening or being planned for every Disney park in America. It's impossible to predict how he might guide the company, but he certainly knows it well: he's been with Disney for 27 years, longer than even Iger himself.