What Breitbart's Relationship with AT&T Could Mean for the Future of the Media
Photo by Mario Tama/Getty
Business
Features
Breitbart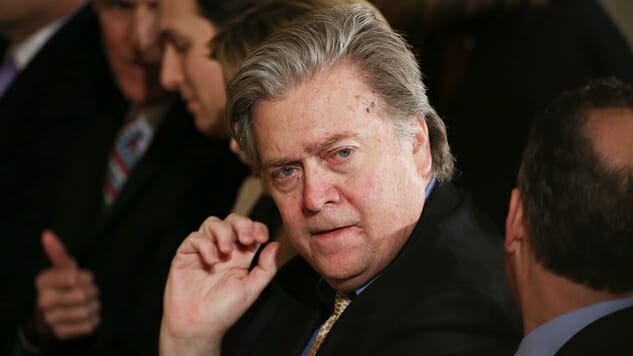 This week, organizers of an online campaign to blacklist Breitbart News from automatic media buys announced more than a thousand companies had stopped Breitbart from getting their advertising dollars. Due to their potentially symbiotic relationship with the Trump administration, AT&T is a notable holdout.
Breitbart earned the ire of the campaign's organizers—who refer to themselves as "Sleeping Giants," as well as that of groups like the Southern Poverty Law Center, because of their association with the "alt-right," a relatively small but vocal group who believes the United States would be best if it was left to white people. Among those who have blocked Breitbart are BMW, and Kellogg, a spokesperson for which who told Bloomberg that Breitbart is not "aligned with our values as a company."
Sleeping Giant tells its social media activists to politely bring it to companies' attention that ads are appearing on Breitbart's site as they might not even be aware if they make mass purchases based on click tracking algorithms.
Oh, they're aware. We've been telling @ATT for months. https://t.co/leBTSASKq7

— Sleeping Giants (@slpng_giants) January 25, 2017
But AT&T's relationship with Breitbart might be about more than the increasing number of visitors passing over the site everyday.
Breitbart's place in the zeitgeist as a potential "Pravda for the Trump administration" is solidifying after President Trump said that he would pick the reporters who get to attend press briefings, and the only seat reserved at his first press conference as president-elect was for Breitbart. It's also notable that Breitbart is growing its team of reporters in Washington D.C. and Steve Bannon—Trump's chief strategist and former executive chairman of Breitbart—recently said the "opposition" media should "keep its mouth shut."
Thanks to this train wreck of a Facebook Live video the White House released of an exclusive interview that Sean Spicer gave to young Breitbart reporter Charlie Spiering after a federal judge ruled against President Trump's travel ban—there's already an indication of the level the administration is willing to sink to in order to avoid participating in the democratic process.
Worse than the awkward zooms and framing, worse than Spicer thanking "Rod" (who is Rod!?) at the end, worse even than Spiering saying there were six countries included in the ban instead of seven, was the revealing slip right around the 1:40 mark. That's when Spiering forgets which hat he's wearing before he corrected himself: "And looking back, do you feel that possibly we should—the administration should've waited before they decided to implement this executive order? Or…"
Now that's something we, the people, shouldn't be able to ignore.
At the same time, Internet Service Providers like AT&T are increasingly trying to merge with content providers like Time Warner Cable. In such a vertically consolidated environment, Internet Service Providers, have an incentive to block or slow their competitors' content as it tries to make its way across the internet to consumer devices. The Federal Communications Commission's Open Internet Order, which AT&T is planning to challenge in the Supreme Court, seeks to ensure "net neutrality" by making it illegal for ISPs to discriminate against any content.
Possibly without understanding what it is, President Trump has come out against net neutrality in a befuddling tweet, and has appointed Ajit Pai as the new commissioner of the FCC. Pai, a former Verizon lawyer who has a warm relationship with the telecommunications lobby, like them, fiercely opposes net neutrality.
Pai would also be in the position to approve AT&T's merger with Time Warner. During the presidential campaign, Trump promised to oppose the companies' merger because, he said, it was "too much concentration of power in the hands of too few." Citing Comcast's merger with NBC, he added "deals like this destroy democracy." Trump's transition team has since backtracked his position.
So what's the worst of what the fallout from all of this could look like? Here is some side eye:
Okay @AjitPaiFCC, after you end net neutrality, will any sites other than Breitbart & the Observer be in the basic Internet tier? https://t.co/9w6AOIJzAb

— Anil Dash (@anildash) January 23, 2017
But according to Bloomberg, Trump himself remains opposed to the deal, so there's a major imperative for AT&T to get on his good side. Another Bloomberg source said that Bannon is also against the AT&T deal, and Breitbart has lashed out at companies who have pulled their advertising from the site with their own boycott campaign.
In the context of the special access that Breitbart already has to the White House, and vice versa, there does seem to be a lot more riding on the fate of net neutrality these days. Letting it die gives AT&T free reign, but also ingratiates them with Breitbart and the Trump administration.
AT&T declined comment for this article.