Andra Day and Hyatt Hotels Bring Understanding to the 89th Academy Awards
Photo by Christopher Polk/Getty
Business
Features
Andra Day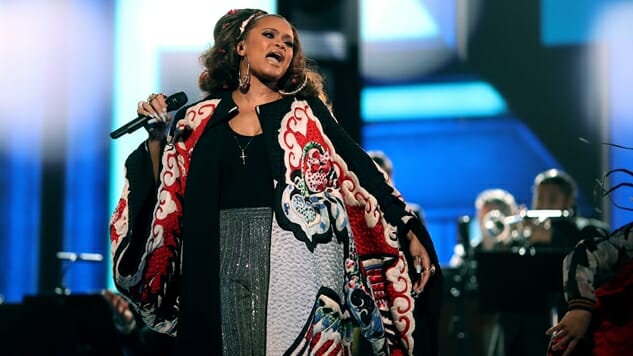 On March 1, Hyatt Hotels is officially launching its new global platform with the goal of building and engaging a community of travelers around the idea that we all share in a common humanity—no matter where in the world we may come from or visit.
This campaign, "For a World of Understanding," is described by the Hyatt website as, "a world filled with thoughtful perks, personal connections, and amazing experiences."
Kicking it off is a spot during the 89th Academy Awards which will feature a remake of one of the most globally recognized songs "What the World Needs Now Is Love," originally composed by Hal David and Burt Bacharach. This particularly poignant and relevant song will be performed by Grammy nominated artist, Andra Day (Rise Up). With touching footage captured in three different countries—Spain, Morocco, and Thailand—the video highlights how people of all ages and backgrounds can unite through simple and genuine human connections.
Paste had the exclusive opportunity to interview Day on her collaboration with the brand, her inspiration, and thoughts on unity. "I hope when people hear this spot it reaches out and grabs them, and instills a desire to be a better listener, to be someone who understands, to be someone who is empathetic and caring," explained Day in response to what she hopes people will feel after hearing the spot. "I hope it allows them to realize that if you are willing to understand and listen to other people, then you can actually be understood, because it creates a desire in other people to want to hear you as well."
When asked what inspires her, the talented vocalist didn't hesitate to attribute it to her faith. "My faith definitely inspires me—it reminds me why I do this when things get a little crazy. And people—relationships with people, interactions with people, observing people. You don't have to look far for inspiration, people are constantly living in ways that are inspiring to me," continued Day. "I am definitely a people watcher. I'm always observing and drawing inspiration from those daily interactions and mindsets as well—even those I don't agree with or that I don't quite understand—I'm drawing inspiration from them all the time."
Day expanded on these thoughts in a behind-the-scenes interview that Hyatt shared with Paste:
"I think it's important to remake Burt Bacharach's "What the World Needs Now" because right now the world is full of opinions—which is always fine—and full of agendas, and people think things out to be a certain way and they're not listening to each other and that requires love, and love requires selflessness."
"For a world of understanding to me means a world that listens, a world that loves, and a world that regards other people as either equal or more important than yourself. And if you can imagine that picture then it's a world where everyone is loved and everyone is taken care of."
As far as her plans for one of the biggest night's in television?
"I don't have major plans for the Oscars. I am just kind of enjoying myself during that time. I am excited about Hidden Figures. I think the actresses in it are amazing, and I love Taraji as well. I think Janelle Monáe, this being her first big sort of, move into film, into movies, and for it to be nominated for an Oscar is amazing, and I admire her so much as an artist, and it's a testament to how detailed and how deeply engaged and convicted she is when it comes to her work. So I'll be rooting for her—when the Oscars come in playing—I'll be sitting on my sofa eating a bunch of food rooting for you Janelle."
Would Day ever follow in Monáe's footsteps on to the big screen?
"I have experience acting. My acting is all stage—I went to performance arts school as well. And so the emphasis for me there was dance and musical theatre. I think I have a desire to do maybe a few roles. My desire is a little more behind the camera. I do want to write and I want to co-direct and produce movies."
Dave Weist, the Creative Director of MullenLowe, explained the methodology behind the commercial:
"We wanted to create an environment where moments could happen and we wanted to capture it in a documentary-style way. There's probably a younger generation that won't really know the song, but they'll hear it for the first time, or people that have heard it before but it'll conjure up good memories.
Check out the ad below, which was shared exclusively with Paste ahead of its global launch.