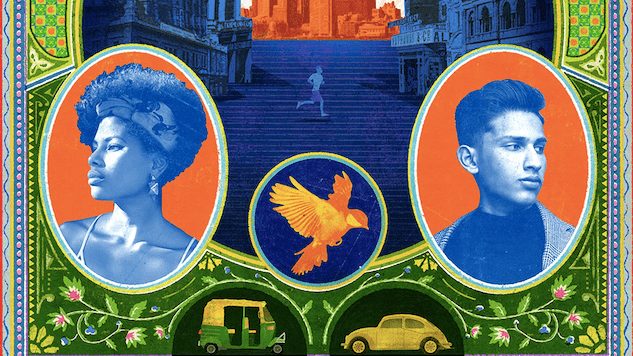 The best Young Adult novels of April are the perfect reads for warm spring days. From enchanting debuts to thrilling sequels to some of the most anticipated books of 2019, this month's must-read titles have something for everyone.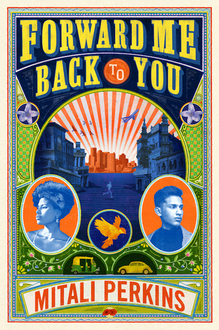 Forward Me Back to You by Mitali Perkins
Release Date: April 2nd from Farrar, Straus and Giroux Books for Young Readers
Why You'll Love It: I always get hyped for a new Mitali Perkins novel, and her latest., which explores friendship and adoption, is worth the excitement. Many readers discovered Perkins after her National Book Award-nominated You Bring The Distant Near, and I hope they keep falling for her gorgeous books.
For Fans of: Authors like Shannon Gibney and Robin Benway.
Description: Katina King is the reigning teen jiu-jitsu champion of Northern California, but she's having trouble fighting off the secrets in her past.
Robin Thornton was adopted from an orphanage in Kolkata, India and is reluctant to take on his future. Since he knows nothing about his past, how is he supposed to figure out what comes next?
Robin and Kat meet in the most unlikely of places—a summer service trip to India to work with survivors of human trafficking. As bonds blossom between the travel-mates, Robin and Kat discover the healing superpowers of friendship.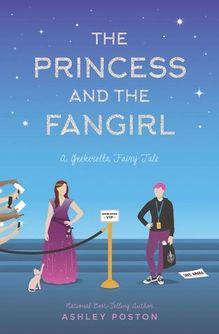 The Princess and the Fangirl by Ashley Poston
Release Date: April 2nd from Quirk Books
Why You'll Love It: Geekerella, the first book in Poston's fairy tale-inspired series, was a charming Cinderella retelling with a Comic Con splash. Now the sequel reimagines The Prince and the Pauper, delivering a geeky love story that readers will love. (And if you loved these novels, check out Poston's Heart of Iron. It was one of our favorite Young Adult books of 2018.)
For Fans of: Authors who blend geek culture into their novels, like Lily Anderson or Whitney Gardner.
Description: Imogen Lovelace is an ordinary fangirl on an impossible mission: save her favorite character, Princess Amara, from being killed off from her favorite franchise, Starfield. The problem is, Jessica Stone—the actress who plays Princess Amara—wants nothing more than to leave the intense scrutiny of the fandom behind. If this year's ExcelsiCon isn't her last, she'll consider her career derailed.
When a case of mistaken identity throws look-a-likes Imogen and Jess together, they quickly become enemies. But when the script for the Starfield sequel leaks, and all signs point to Jess, she and Imogen must trade places to find the person responsible. That's easier said than done when the girls step into each other's shoes and discover new romantic possibilities, as well as the other side of intense fandom. As these "princesses" race to find the script-leaker, they must rescue themselves from their own expectations and redefine what it means to live happily ever after.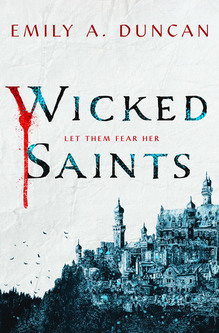 Wicked Saints by Emily A. Duncan
Release Date: April 2nd from Wednesday Books
Why You'll Love It: Emily A. Duncan's debut YA novel does not disappoint. It's thrilling and brutal, reading like a heavy metal song. And it's the first book in a trilogy! I cannot wait for books two and three—and for whatever else this blistering new talent writes.
For Fans of: Authors of dark fantasy novels, like Leigh Bardugo.
Description: A girl who can speak to gods must save her people without destroying herself. A prince in danger must decide who to trust. A boy with a monstrous secret waits in the wings. Together, they must assassinate the king and stop the war.
In a centuries-long war where beauty and brutality meet, their three paths entwine in a shadowy world of spilled blood and mysterious saints, where a forbidden romance threatens to tip the scales between dark and light.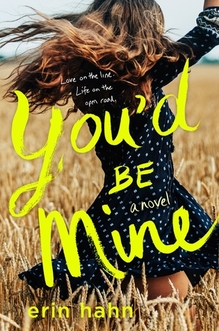 You'd Be Mine by Erin Hahn
Release Date: April 2nd from Wednesday Books
Why You'll Love It: I loved every delicious page of Erin Hahn's stunning debut! Reading like a country song blended with your favorite romance novel, You'd Be Mine packs an emotional punch while delivering plenty of sighs.
For Fans of: Authors who blend music and sighs, like Katie Cotugno and Morgan Matson.
Description: Annie Mathers is America's sweetheart and heir to a country music legacy full of all the things her Gran warned her about. Superstar Clay Coolidge is most definitely going to end up one of those things.
But unfortunately for Clay, if he can't convince Annie to join his summer tour, his music label is going to drop him. That's what happens when your bad boy image turns into bad boy reality. Annie has been avoiding the spotlight after her parents' tragic death, except on her skyrocketing YouTube channel. Clay's label wants to land Annie, and Clay has to make it happen.
Swayed by Clay's undeniable charm and good looks, Annie and her band agree to join the tour. From the start fans want them to be more than just tour mates, and Annie and Clay can't help but wonder if the fans are right. But if there's one part of fame Annie wants nothing to do with, it's a high-profile relationship. She had a front row seat to her parents' volatile marriage and isn't interested in repeating history. If only she could convince her heart that Clay, with his painful past and head over heels inducing tenor, isn't worth the risk.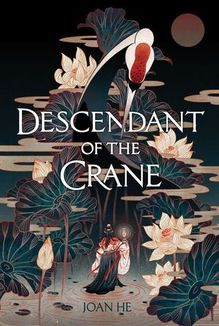 Descendant of the Crane by Joan He
Release Date: April 9th from Albert Whitman Teen
Why You'll Love It: Joan He's world-building is stunning, and the political intrigue is wildly captivating. I got hooked in the first few pages, and so will you.
For Fans of: Authors like Julie C. Dao.
Description: Princess Hesina of Yan has always been eager to shirk the responsibilities of the crown, dreaming of an unremarkable life. But when her beloved father is found dead, she's thrust into power, suddenly the queen of a surprisingly unstable kingdom. What's more, Hesina believes that her father was murdered—and that the killer is someone close to her.
Hesina's court is packed full of dissemblers and deceivers eager to use the king's death for political gain, each as plausibly guilty as the next. Determined to find her father's actual killer, Hesina does something desperate: she enlists the aid of a soothsayer—a treasonous act, punishable by death, since magic was outlawed centuries ago. With the future of Yan at stake, can Hesina find justice for her father? Or will the cost be too high?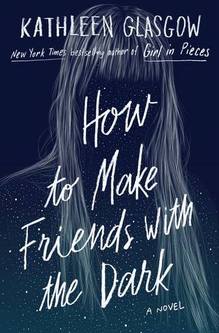 How to Make Friends with the Dark by Kathleen Glasgow
Release Date: April 9th from Delacorte Press
Why You'll Love It: Kathleen's Glasgow's debut, Girl in Pieces, was an emotional rollercoaster, and her latest promises to be just as hard hitting. How to Make Friends with the Dark follows a teen grappling with grief in the wake of her mother's death, delivering a story you'll want to dive into.
For Fans of: Authors who explore grief and family, like Jasmine Warga and Courtney Stevens.
Description: Here is what happens when your mother dies. It's the brightest day of summer and it's dark outside. It's dark in your house, dark in your room and dark in your heart. You feel like the darkness is going to split you apart.
That's how it feels for Tiger. It's always been Tiger and her mother against the world. Then, on a day like any other, Tiger's mother dies. And now it's Tiger, alone.
Here is how you learn to make friends with the dark.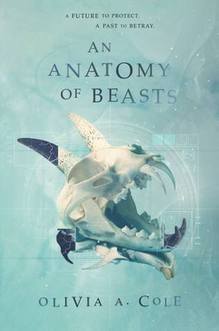 An Anatomy of Beasts by Olivia A. Cole
Release Date: April 16th from Katherine Tegen Books
Why You'll Love It: I adored Olivia A. Cole's first YA novel, A Conspiracy of Stars, and called it the best new YA series of 2018. Now the sequel has arrived, and I promise you'll love it. If you're looking to get lost in a new world, you'll want to treat yourself to both books.
For Fans of: Authors who write sci-fi/fantasy novels with big worlds (and big hearts), like Rhoda Bezella or Natalie C. Parker.
Description: In the 40 years since the Vagantur landed on Faloiv, the planet has existed in a tenuous peace between the humans who live in the enclosed community of N'Terra and the Faloii, the indigenous population. But after uncovering the shadowy secrets of the Council's newly elected leader and helping a kidnapped Faloii man escape, 16-year-old Octavia knows that conflict is looming.
Then the Faloii discover the N'Terran's latest experiment, an artificially weaponized creature, and Octavia realizes that it's up to her to prevent her people from causing any further destruction. As she learns to control her ability to communicate through the Artery, the network that connects everything on Faloiv, Octavia must act to change her people's future before the natural balance on the planet shifts forever.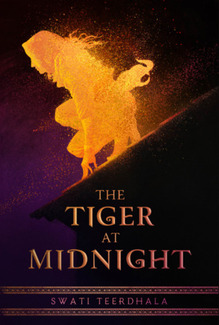 The Tiger at Midnight by Swati Teerdhala
Release Date: April 23rd from Katherine Tegen Books
Why You'll Love It: A fantasy novel that draws from ancient Indian history and Hindu mythology? Yes! It's the first book Swati Teerdhala's new trilogy, and I cannot wait for the sequels.
For Fans of: Authors of fantasy epics, like Sabaa Tahir.
Description: Esha lost everything in the royal coup—and as the legendary rebel known as the Viper, she's made the guilty pay. Now she's been tasked with her most important mission to date: taking down the ruthless General Hotha.
Kunal has been a soldier since childhood. His uncle, the general, has ensured that Kunal never strays from the path—even as a part of Kunal longs to join the outside world, which has only been growing more volatile.
When Esha and Kunal's paths cross one fated night, an impossible chain of events unfolds. Both the Viper and the soldier think they're calling the shots, but they're not the only players moving the pieces. The two must decide where their loyalties lie: with the lives they've killed to hold on to the present or with the love that's made them dream of something more.

Brief Chronicle of Another Stupid Heartbreak by Adi Alsaid
Release Date: April 30th from Inkyard Press
Why You'll Love It: We're huge fans of Adi Alsaid here at Paste! His YA contemporary novels are always peppered with wit and heartaches, including his latest. Brief Chronicle of Another Stupid Heartbreak is set in the awkward time between high school graduation and adult life, and we can't wait.
For Fans of: Authors who write YA contemporary novels that pack a punch, like Jeff Zentner.
Description: Dumped by her boyfriend the summer after senior year, teen love and relationship columnist Lu Charles has hit a wall with her writing. The words just won't come to her like they used to and if she doesn't find a topic for her column, she'll lose her gig at hip online magazine Misnomer—and the college scholarship that goes along with it.
Her best friend, Pete, thinks she should write through her own pain, but when Lu overhears another couple planning a pre-college breakup just like hers, she becomes convinced that they're the answer to cracking her writer's block. One thing is certain—if Lu can't make a breakthrough before summer is over, she can kiss her future goodbye.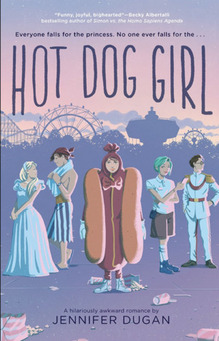 Hot Dog Girl by Jennifer Dugan
Release Date: April 30th from G.P. Putnam's Sons Books for Young Readers
Why You'll Love It: One of Paste's most anticipated YA novels of 2019 is here, and it's a hilarious delight. This wonderful romance novel set at a theme park makes for one of the best reads of the year, hands down.
For Fans of: Authors like Becky Albertalli and Amy Spalding.
Description: Elouise (Lou) Parker is determined to have the absolute best, most impossibly epic summer of her life. There are just a few things standing in her way:
She's landed a job at Magic Castle Playland…as a giant dancing hot dog. Her crush, the dreamy Diving Pirate Nick, already has a girlfriend, who is literally the Princess of the park. Her best friend, Seeley, the carousel operator, who's always been up for anything, suddenly isn't when it comes to Lou's quest to set her up with the perfect girl or Lou's scheme to get close to Nick. And it turns out that this will be their last summer at Magic Castle Playland—ever—unless she can find a way to stop it from closing.