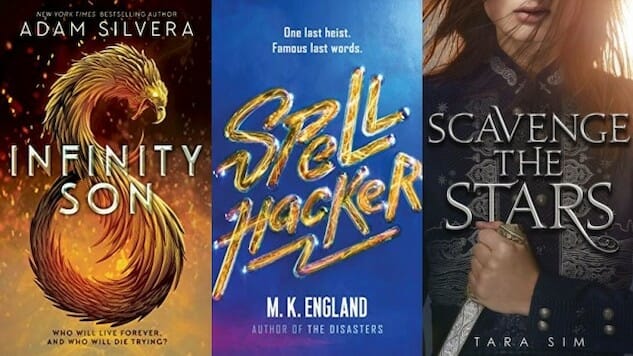 This year kicks off with huge releases right out of the gate, including some of our most anticipated Young Adult novels of 2020! And you're in luck, as hot new titles from Lamar Giles, Adam Silvera, Tara Sim and others are already hitting shelves. If the January releases are any indication of what this year is going to look like in YA publishing, it's going to be an incredible one.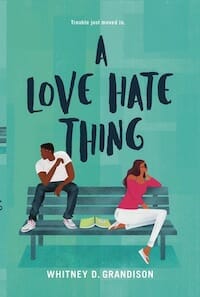 A Love Hate Thing by Whitney D. Grandison
Release Date: January 7th from Inkyard Press
Why You'll Love It: If you're on Wattpad, you've likely heard of Whitney D. Grandison long before her debut. She found an audience of tens of thousands there, and her writing pulled in over 16 million reads. She's now in print with a YA novel about two teens who can't stand each other…until the swooning begins. An enemies-to-lovers contemporary story? Yes, please.
For Fans of: Emery Lord and Lauren Morrill
Description: When Tyson Trice finds himself tossed into the wealthy coastal community of Pacific Hills, he's ready for the stares. After recovering from being shot and surviving the rough streets of Lindenwood, he doesn't care about anyone or anything. Golden girl Nandy Smith has spent most of her life building the pristine image that it takes to fit in. But after learning that her parents are taking in a troubled teen boy, Nandy fears her reputation will go up in flames. Now with Trice living under the same roof, their growing attraction won't be denied. Only, with the ever-present pull back to the Lindenwood streets, it'll be a wonder if Trice makes it through this summer at all.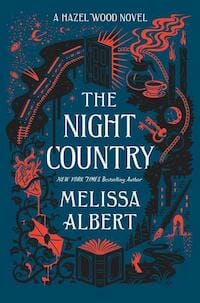 The Night Country by Melissa Albert
Release Date: January 7th from Flatiron Books
Why You'll Love It: If you missed out on the phenomenon that was The Hazel Wood, now is your chance to make it up to yourself. Melissa Albert's sequel to that beautiful novel is here, bringing more of the lush, lyrical prose readers discovered with her debut. Set in a world of living fairy tales that blend into the real world, it's a must-read for YA fans of all ages.
For Fans of: Holly Black
Description: (Spoilers for The Hazel Wood ahead.) With Finch's help, Alice escaped the Hinterland and her reclusive grandmother's dark legacy. Now she and the rest of the dregs of the fairy tale world have washed up in New York City, where Alice is trying to make a new, unmagical life. But something is stalking the Hinterland's survivors—and she suspects their deaths may have a darker purpose. Meanwhile, in the winking out world of the Hinterland, Finch seeks his own adventure and—if he can find it—a way back home.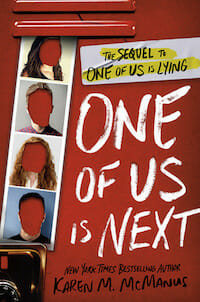 One of Us Is Next by Karen M. McManus
Release Date: January 7th from Delacorte Press
Why You'll Love It: The sequel to the New York Times bestseller One Of Us Is Lying is finally here, and you can pick it up before the Netflix series hits! A thriller from one of the best writers in the YA mystery genre, One of Us Is Next delivers more shocking surprises and twists you won't see coming.
For Fans of: Caleb Roehrig and Diana Urban
Description: (Spoilers for One of Us Is Lying ahead.) A ton of copycat gossip apps have popped up since Simon died, but in the year since the Bayview four were cleared of his shocking death, no one's been able to fill the gossip void quite like he could. Until now. This time it's not an app, though—it's a game: Truth or Dare. Phoebe's the first target; then comes Maeve. But by the time Knox is about to be tagged, things have gotten dangerous. The dares have become deadly, and if Maeve learned anything from Bronwyn last year, it's that they can't count on the police for help. Or protection. Simon's gone, but someone's determined to keep his legacy at Bayview High alive. And this time, there's a whole new set of rules.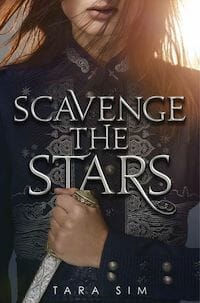 Scavenge the Stars by Tara Sim
Release Date: January 7th from Disney-Hyperion
Why You'll Love It: Tara Sim's Timekeeper series is one of our favorite YA trilogies of all time. Her diverse, inclusive fantasy worlds are beautifully built, and her romances feel real no matter the imaginative setting. So when she announced that her new duology is a gender-swapped retelling of The Count of Monte Cristo, we were elated! Delivering high stakes and intense adventure, Scavenge the Stars will leave you anxiously awaiting the sequel.
For Fans of: Sabaa Tahir and Leigh Bardugo
Description: When Amaya rescues a mysterious stranger from drowning, she fears her rash actions have earned her a longer sentence on the debtor ship where she's been held captive for years. Instead, the man she saved offers her unimaginable riches and a new identity, setting Amaya on a perilous course through the coastal city-state of Moray, where old-world opulence and desperate gamblers collide. Amaya wants one thing: revenge against the man who ruined her family and stole the life she once had. But the more entangled she becomes in this game of deception—and as her path intertwines with the son of the man she's plotting to bring down—the more she uncovers about the truth of her past. And the more she realizes she must trust no one.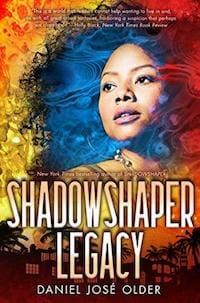 Shadowshaper Legacy by Daniel José Older
Release Date:January 7th from Scholastic Press
Why You'll Love It: Daniel José Older's magnificent Shadowshaper Cypher trilogy began five years ago with Shadowshaper. Now, it's time to say farewell to Sierra and her adventures. A stunning urban fantasy set in a world of magic and shadowshapers (people who can infuse art with ancestral spirits), Older's series is an essential read—and it's one we'll miss.
For Fans of: Nnedi Okorafor and Zoraida Córdova
Description: (Spoilers for books one and two ahead.) Sierra and the shadowshapers have been split apart. Juan, Anthony and Izzy are in jail, anxiously waiting to find out what will become of them. Back in Brooklyn, a war is brewing among the houses. Sierra is determined to protect her own in the coming conflict, but a deal with Death by one of Sierra's ancestors has far-reaching consequences in the battles of the present. Sierra will have to harness the Deck of Worlds and confront her family's past if she has any hope of saving the future and everyone she loves.

We Used to be Friends by Amy Spalding
Release Date: January 7th from Amulet Books
Why You'll Love It: This is the year for friendship break-up books. There are a handful coming your way in 2020 (keep an eye out for Ashley Woodfolk's When You Were Everything), and Spalding's is the first of the bunch. Her latest is humorous in the way her books always are, and it also packs the emotional gut-punch necessary in a story about growing apart.
For Fans of: Morgan Matson and Emery Lord
Description: At the start of their senior year in high school, James (a girl with a boy's name) and Kat are inseparable, but by graduation, they're no longer friends. James prepares to head off to college as she reflects on the dissolution of her friendship with Kat while, in alternating chapters, Kat thinks about being newly in love with her first girlfriend and having a future that feels wide open. Over the course of senior year, Kat wants nothing more than James to continue to be her steady rock, as James worries that everything she believes about love and her future is a lie when her high-school sweetheart parents announce they're getting a divorce.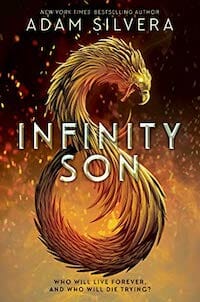 Infinity Son by Adam Silvera
Release Date: January 14th from HarperTeen
Why You'll Love It: We're huge Adam Silvera fans at Paste, as he writes inclusive, exciting stories that are almost always set in a near-future setting. Silvera's latest novel is his first foray into fantasy, marking the start of an exciting duology about two brothers who find themselves in the middle of a magical war. His books consistently deliver powerful stories about relationships set against the backdrop of the fantastic, so you'll want to see how this story of brotherhood rolls out.
For Fans of: Melissa Grey and Ryan La Sala
Description: Growing up in New York, brothers Emil and Brighton always idolized the Spell Walkers—a vigilante group sworn to rid the world of specters. While the Spell Walkers and other celestials are born with powers, specters take them, violently stealing the essence of endangered magical creatures. Brighton wishes he had a power so he could join the fray. Emil just wants the fighting to stop. The cycle of violence has taken a toll, making it harder for anyone with a power to live peacefully and openly. In this climate of fear, a gang of specters has been growing bolder by the day. Then, in a brawl after a protest, Emil manifests a power of his own—one that puts him right at the heart of the conflict and sets him up to be the heroic Spell Walker Brighton always wanted to be.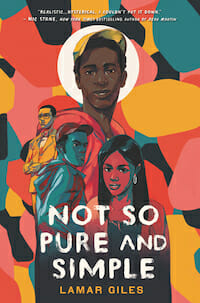 Not So Pure and Simple by Lamar Giles
Release Date: January 21st from HarperTeen
Why You'll Love It: Lamar Giles has garnered critical acclaim for his YA thrillers, including two Edgar Award nominations. So we're intrigued about what he's done with Not So Pure and Simple, his first contemporary novel. A story that digs into toxic masculinity and societal pressures, it follows a boy learning to consider what someone else wants instead of thinking only of his own needs.
For Fans of: Brandy Colbert and Rebecca Barrow
Description: Del has had a crush on Kiera Westing since kindergarten. So when Kiera volunteers for an opportunity at their church, Del's right behind her. Though he quickly realizes he's inadvertently signed up for a Purity Pledge. His dad thinks his wires are crossed, and his best friend, Qwan, doesn't believe any girl is worth the long game. But Del's not about to lose his dream girl, and that's where fellow pledger Jameer comes in. He can put in the good word. In exchange, Del just has to get answers to the Pledgers' questions…about sex ed. With other boys circling Kiera like sharks, Del needs to make his move fast. But as he plots and plans, he neglects to ask the most important question: What does Kiera want?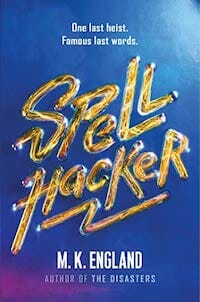 Spellhacker by M.K. England
Release Date: January 21st from HarperTeen
Why You'll Love It: What's not to adore about this wild genre mashup from M.K. England, who brought us the hilarious romp that was The Disasters? A blend of sci-fi and fantasy set in a world of illegal magic, it boasts everything from magic to technology to plagues.
For Fans of: Marie Lu and Amie Kaufman
Description: In Kyrkarta, magic—known as maz—was once a freely available natural resource. Then an earthquake released a magical plague, killing thousands and opening the door for a greedy corporation to make maz a commodity that's tightly controlled andoutrageously expensive. Which is why Diz and her three best friends run a highly lucrative, highly illegal maz siphoning gig on the side. Their next job is supposed to be their last heist ever. But when their plan turns up a powerful new strain of maz that (literally) blows up in their faces, they're driven to unravel a conspiracy at the very center of the spellplague—and possibly save the world.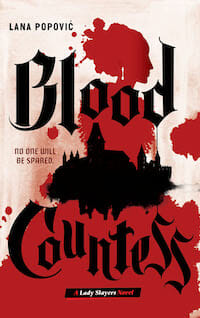 The Blood Countess by Lana Popovic
Release Date: January 28th from Harry N. Abrams
Why You'll Love It: If you've read any of Lana Popovic's previous novels, you know that she writes some seriously lyrical and beautiful books. Her latest dives right into horror, tackling a story that's based on the real-life inspiration for Countess Dracula!
For Fans of: Kim Liggett or Dawn Kurtagich
Description: In 17th century Hungary, Anna Darvulia has just begun working as a scullery maid for the young and glamorous Countess Elizabeth Báthory. When Elizabeth takes a liking to Anna, she's vaulted to the dream role of chambermaid, a far cry from the filthy servants' quarters below. She receives wages generous enough to provide for her family, and the Countess begins to groom Anna as her friend and confidante. It's not long before Anna falls completely under the Countess's spell—and the Countess takes full advantage. Isolated from her former friends, family and fiancé, Anna realizes she's not a friend but a prisoner of the increasingly cruel Elizabeth. Then come the murders, and Anna knows it's only a matter of time before the Blood Countess turns on her, too.

Looking for more reading recommendations? Check out our lists of the best audiobooks and the best novels and nonfiction books of January.