Visual Vitriol: The Street Art and Subcultures of the Punk and Hardcore Generation by David A. Ensminger
Outside of Society, There's A Different Kind of Tension…
Books
Reviews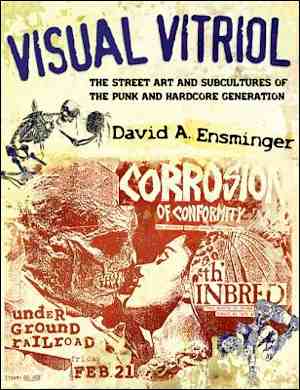 Was punk culture as welcoming to all-comers as it's been portrayed by its freethinking adherents and by its revisionist historians? Or was it subject to the same power struggles and materialist concerns…and prone to outbreaks of unchecked racism, sexism and religious fundamentalism that mark the mainstream it sought to escape and upend?
Turns out the answers are yes and no and all that, according to author David Ensminger, who takes the reader on a journey through punk's past.
Ensminger burrows into punk's essential contradictions and comes up with something other than the same old-same old. Unmasking the movement's flier-art and the subcultures within the underground—the black, Latino, gay, female, skateboarding, goth, straight-edge and visual-art people behind punk—the author creates space for the marginalized of the movement to make a riot of their own.
The author builds the case that diversity, combined with the flier artists' vision, was as essential to punk and its culture as a studded belt and a bottle of Bud. Unflinching as he emphasizes the hardcore of D.C., Texas and Los Angeles, with plenty of referencing of punk bands before and after, the author manages to paint an empathic portrait of what it was like to be other among those already living "outside of society," as Patti Smith once put it.
By allowing the voices and stories of punk's true renegades to speak for themselves, Ensminger, in his own highly charged style, champions the contribution multi-cultural, queer and female eyes brought to the punky reggae party, from its bright dawn in 1977-1980 till the dimming of its heyday. He calls out where punk's participants (and historians) got it wrong—as when critic Greil Marcus unfortunately described the voice of Poly Styrene as one that could "disinfect a toilet." The author generally burns down the iconic, in true punk style, while favoring the underdogs the movement set out to champion in the first place.
Twenty-plus years after the publication of Marcus's punk deconstruction, Lipstick Traces, and years into a wealth of lesser literature on the subject, the music's legacy and its foot soldiers have faced their own storms. A staggering percentage of them have passed on (see Please Kill Me, by Legs McNeil and Gillian McCain). Others found themselves left out of their own histories, watching from the sidelines as a new generation of punks delivered the music to the Great White Way (Green Day's American Idiot on Broadway).
English and humanities professor Ensminger suggests that some of punk's mysteries remain uncovered, that we and he have only scratched the surface of its depth, and that study of punk folklore that includes its handcrafted, black-and-white Xeroxed posters—many reproduced here—tell a tale of community…or of communities within a community.
He calls the fliers a city's "second skin," attached as they are to telephone poles throughout the urban landscape. Turns out that punk's fliers, rather than its people, were truly free, as they expressed the movement's DIY, anarchistic, utopian and death-obsessed ideals…sometimes all at once. Where punk thrived, the fliers not only announced the good news of the music's arrival, they served the scene as a way to market itself pre-technology, and a means to spread information—about gatherings, causes, locales and aesthetics—when other media outlets largely closed its doors to the phenomenon (except to bash or sensationalize it).
Whether in the muscular, three-chord, hardcore sounds of Black Flag and Minor Threat, the "no future"/nihilistic sloganeering of the Sex Pistols, or as cries of alienation and liberation by the Bad Brains, Buzzcocks, the Bags and the Alley Cats, punk meant different things to different people and could not be as easily categorized. Its styles took in everything from torn jeans and T-shirts to leather and lace.
Visual Vitriol also charts the ways punk uneasily embraced ethnicities. Certainly in Texas and California, the Latino influence on punk is undeniable and continues to demand further and deeper exploration. But for those like Latina Alice Bag, who transgressed racial and gender codes to wear punk's clothes, presence on the punk scene was a radical act—and it came with a cost. As Maxmimumrocknroll 'zine reader Mark Anthony wrote in a letter to the editor, "Most of the black people around here don't like me because I don't dress right … The whites that don't like me, do so because they think I'm trying to act white by listening to 'white music.' Talk about narrow minds!"
Ensminger also provides a context for a greater understanding of the whole mess by passing down stories of black and white straight punks who thought they were tolerant of gay life till they were caught-out dropping the other f-bomb. There are stories from girls shut out by hardcore boys clubs that forgot women have rights too. For every Rock Against Racism benefit and chorus of "Rise Above" there seems to be a matching story of racial intolerance and lower consciousness. As Ensminger writes it, "Generally speaking, the punk belief system consistently constructed a potent, generative, fiercely democratic point of view laced with poetic license." The outpunks and women of the movement who donned the battle accoutrements—the combat boots and wristlets—did so not only because it was fashionable, but because they had to be ready for action too.
From the media-hype of the moshpit to backstage, in the van, in fanzines, record stores, and the Guitar Centers of the world, racism and sexism were alive and well as punk raged on, yet this is a tale that has largely gone untold. By giving voice to the unheard cadences of punks on the margins, Visual Vitriol becomes a Howard Zinn-like people's history of punk.
Ensminger's may not be the version of the story you've heard according to Henry Rollins, Thurston Moore, Jello Biafra and the other mouthpieces usually assigned to the job. Nor is it the one told in Please Kill Me or We Got the Neutron Bomb, or in the tales of the Clash and Bob Marley we've come to know from their friend, musician/director Don Letts (though parts of all those versions are included too).
The stories and observations collated here benefit from the author's street-scholar sense, as he makes critical connections between what bound the subculture together. Though best of all, Visual Vitriol shines some light on what it was like to be alive and "other" in the late '70s and early '80s, among the ultimate band of outsiders who drove rock's last great protest moment.
Denise Sullivan is the author of Keep on Pushing: Black Power Music From Blues to Hip Hop, recently published by Lawrence Hill Books. Visit her at her website at denisesullivan.com