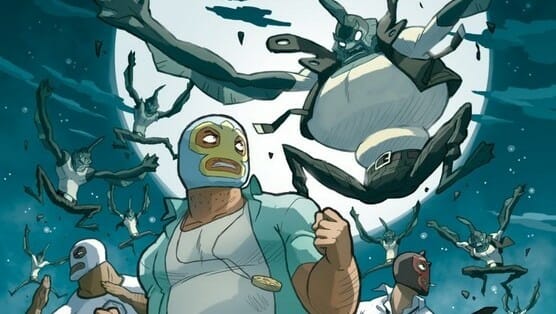 Writer: Jerry Frissen
Artist: Bill
Publisher: Humanoids
Release Date: June 25, 2014
You'd hardly expect a lucha libre (i.e., Mexican wrestling) comic set in Los Angeles to come from a French publishing house, and yet, here is Unfabulous Five. Originally published in French through short iterations ranging from 12 pages and up, this larger volume includes two longer stories. The book's heroes are a band of aging former Mexican wrestlers, all still masked, who unite on a regular basis to fight crime. The universe is both supernaturally tinged (werewolves, sea creatures, aliens, a miniature Godzilla-like critter) and recognizably American, probably because writer Jerry Frissen moved to California some 14 years ago, even if he was born "Thierry" Frissen in Belgium.
The contributions of mysterious artist "Bill," who goes by a single name and doesn't live in L.A., are less explicable and help compose the soul of the book. While the writing sets the scene, the art brings it to life. Each unfabulous wrestler sports his own style and personality, although we never see their faces — a credit to Bill's ability to establish a character without relying on the most obvious way to do so. Viewed from a narrative perspective, the fight scenes that make up a good percentage of the pages can feel repetitive and drag down the momentum of the story, but they're always a delight to view. Flatly colored with dynamic shading, these illustrations evoke the tones of beach scene California, even at night. The clothing, background notes and studied casualness of each posture recall any number of movies and comics set in L.A. without appearing overly referential.
Unfortunately, the writing isn't quite as strong as the art, especially in the second, longer story. This narrative combines the stars of old Westerns, a bunch of biker-esque Creatures from the Black Lagoon, surfer dudes, a youth serum quest, a kidnapping, possible double-crosses and more. You'd think with all that going on, there'd be no chance of boredom, but the shtick wears thin when sustained over 100 pages. The shorter format of the first story works far better, including just as much variety in a smaller package. The print size, too, is a little large for the material, which would have fit a manga-size page more neatly. If the composition had been more evenly spread, it might have suited the self-assured slouch of the individual panels better. Still, the book is relatively delightful, a nice little summer charmer and an interesting achievement with unusual origins.