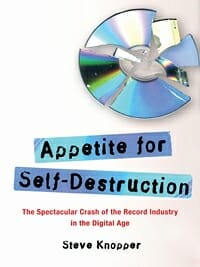 The digital frontier is the obvious next step in the evolution of music dissemination, but hubris appears to be driving the big labels out of business. The executives in charge, in Knopper's account, come off as highly literary—as flawed as Faulkner's characters, as pushy as Tom Clancy's best, and generally, as a cast and crew, dramatic on a Shakespearean level.
Knopper gives us the meticulous research of a college textbook, but his fast-paced style is direct and humorous. He allows his subjects and their shenanigans to speak for themselves, offering open confessions that detail why the music industry's karmic chickens, bred now for decades, are coming home to roost.
The devil wore vinyl, then CDs
The most compelling characters in
Appetite for Self-Destruction
are also the most despicable:
Knopper (a Rolling Stone contributing editor) fearlessly puts faces on the tyrants of the recording industry, outlines their historic resistance to change, and documents the witch hunt they've loosed against downloaders.