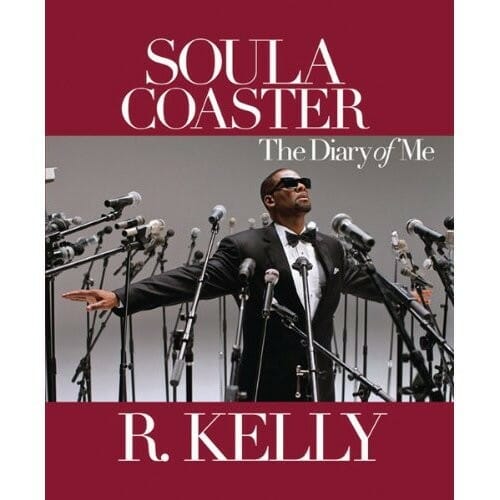 There's a scene early in Soulacoaster: The Diary Of Me, R. Kelly's amusingly named memoir, which seems to anticipate the singer's future. At a certain point in church, young Kelly "got a little bored with the songs." So, he writes, "I'd change the words around. When everyone was singing, 'Jesus is on the main line, tell him what you want,' I sang, 'That girl in the choir is so fine, gonna tell her what I want.'"
Kelly's aunt heard him, slapped him "upside the head," and warned that if she heard him mixing the heavenly with the carnal again she'd tell his mom.
R. Kelly's musical career has often oscillated between—and combined—the intensely religious and the intensely erotic. It's a classic combination for a soul singer, but for Kelly this duality serves only as a jumping-off point.
We don't usually expect idiosyncratic moves from successful pop stars. The pressures of selling albums and trying to appeal to the median listener often produce a certain middle-of-the-road orthodoxy. One of the standard narratives of pop concerns the small-scale artist able to take risks, turn his or her back on market forces, and create "art." Meanwhile, the men and women on the big labels struggle to produce disposable pleasures to satisfy the fickle taste of the public.
But R. Kelly has sold many millions of albums despite, or perhaps because of, his willingness to be both strange and unpredictable (some might say unsavory). Kelly's solo debut, 12 Play—an extension of, and pun on, foreplay—came out in 1993. Songs like "Bump N' Grind" charted well and established Kelly as a raunchy R&B hit-maker.
After grabbing attention with a lascivious audacity guaranteed to excite and scare Americans in equal measure, Kelly moved in new directions. He worked to perfect his brand of lush soul and smart disco. Songs like "When A Woman's Fed Up" and "Step In The Name Of Love" combine a symmetrical or descending figure played on guitar or keyboard, bursts of bass and ticking percussion—Kelly's groovy bread and butter. He refers to it in Soulacoasta as "new flavored old school R&B."
Kelly also built a bridge to the world of hip hop, recognizing the genre as a commercial juggernaut. In his words, "I understood that rap was an art form. The challenge became clear: How can rap and R&B come together?"
Kelly's 1995 R. album contained a memorable collaboration with Notorious B.I.G; since then he's collaborated with a number of rappers (his book lists more than 50). Kelly also employs a sort of sing-speak style at times, and on the 2000 album TP-2.com, he explicitly adopted some of the language of hip hop, calling himself an "R&B thug."
Early in his career he embraced the remix, incorporating rap's willingness to mess around with the building blocks of a song. Remixes account for several of Kelly's most popular and exciting tracks, including "Ignition" (a petition floats around the Internet to make it America's new national anthem) and "I'm A Flirt."
Bumping and grinding, creating "new flavored old school R&B," merging R&B and hip hop—it would be a lot for one man. Kelly also recorded an entire gospel album. His spiritual side led to one of the biggest hits of his career, "I Believe I Can Fly." He's written songs for Muhammad Ali, President Obama and the 2010 World Cup. Some people look to Kelly for arousal, some for inspiration and reassurance, some for both.
But there's more. Even though Kelly takes a wide view of pop music, he quit the studio for a year to play semi-pro basketball—"I can't say that I was a league leader, but I hung in game after game."
He also earned fame for Trapped In The Closet, an ongoing (33 chapters so far) live-action musical series filled with infidelity, a midget, guns and weird situations involving all those things. "The plotting of Trapped" sent him to "creative heaven. . . I had no idea what was going to happen next; the story wrote itself," and Kelly claims to be "as curious as everybody else" about where it's going to end up. Trapped is imaginative, funny, strange and difficult to comprehend. Actors, Kelly included, lip-sync, while Kelly sings every line of the dialogue. He calls it "wall-to-wall song."
With so many R. Kellys, which one do we get in Soulacoaster? The book starts with a warning. "Before you go on this Soulacoaster with me, there is one thing I gotta say: No matter what speed it goes, how high it soars, or how low it drops—hold on."
No need to worry—readers mostly get the inspirational Kelly. He grew up in poor Chicago. He got hit with a stray bullet when he was a kid. He overcame adversity with talent, persistence, and hard work. He became a star and fulfilled the American dream.
Kelly gives us a straightforward, first-person, chronological account of his life, divided into easily manageable chunks, with special quotes pulled from the text and blown up for emphasis in large, bright, font. The man has written some funny songs, and this book includes some colorful lines. "Like a cannon stuffed with cannonballs, my head was stuffed with songs." "I couldn't rein in my music any more than a fisherman could rein in an alligator."
What's missing? Sex, mainly. R. Kelly tells readers about his exposure to the birds and the bees at a young age, but once he becomes a man, everything stays pretty G-rated.
Kelly had a high-profile encounter with the law over child pornography charges (perhaps a reason he stays away from sexual escapades in the book), but Soulacoaster provides few details. He says "I knew the charges were bullshit; I knew I was innocent, but none of that mattered," and chalks the lawsuit up to people trying to extort money from his success: "A superstar becomes an ATM. . . Everybody wants something from you, and most people feel you owe it to them." Courts eventually acquitted Kelly; apparently it felt like "Heaven was hugging" him.
In a similar vein, Kelly writes about some of the women he loved, but he leaves out his annulled marriage to the pop star Aaliyah. (He wrote and produced her first album; they tied the knot when she was just 15.) The omissions and generally positive packaging may not appeal to some readers. One surely will be the music critic Bob Christgau, who attacked Kelly in the Village Voice in 2004, writing: "The sudden respectability of R. Kelly the artist is a confounding development in official pop taste. . . no matter how much Kelly has bared his soul, expanded his palette, and seen the error of his ways, his lies smell like the foulest bullshit. Giving credit where it's due, I hope he goes broke."
I doubt it. Kelly's future seems to hold more of everything. As he puts it, "Ideas are lined up on the runway in my head like airplanes at O'Hare … Don't be surprised if I get inspired to put out a country music album someday."
Here's hoping.
Elias Leight is getting a Ph.D. at Princeton in politics. He is from Northampton, Massachusetts, and writes about music at signothetimesblog.