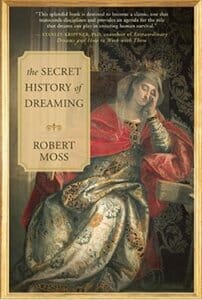 Born in Australia, Moss first learned of traditional dreaming customs through his friendships with Aborigines. Early-childhood illnesses threatened his life, and he attributes his lifelong fascination with dreams and visions to these experiences.
This expansive, thoroughly researched and annotated history shows how dreams and their real effects flow like a river through science, literature, politics and religion. From the story of how Johnny Cash dreamed of "Mexican bullfighting trumpets" the night before recording "Ring of Fire" to the dream and synchronicities surrounding Bono writing "Mystery Girl" for Roy Orbison, this tale shines a bright light on the imaginational life.
Former
Economist
correspondent Robert Moss is an expert guide to the hints and meanings of night dreams and waking visions throughout history. In this fascinating book, he takes us flying in a dream-trance with Harriet Tubman on the Underground Railroad and into an ancient temple of Asklepios, the god of medicine, where dream-states led to healing for the ancient Greeks.