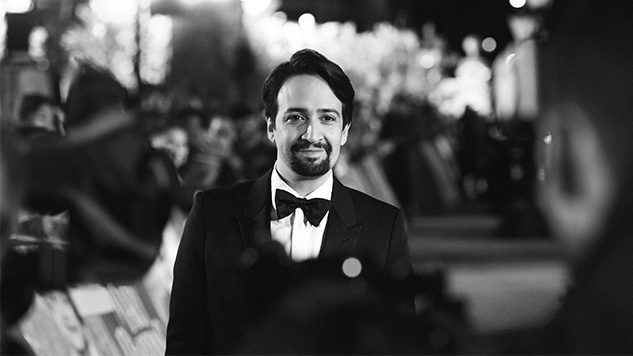 In a move that seems plucked out of a feel-good film, Lin-Manuel Miranda and several of his Hamilton collaborators are coming together to save the Drama Book Shop, which has served as a bastion of New York City theater life for over a century. Like many small businesses around the city, the shop has been squeezed out by exorbitant rents, as per the New York Times. Thankfully, Miranda didn't throw away his shot to save this iconic bookstore.
He is joined in his efforts by Jeffrey Seller (the lead producer of Hamilton), Hamilton director Thomas Kail, and James L. Nederlander (whose eponymous organization operates the Broadway theater in which the musical is shown). The Hamilton collaborators are teaming up with the city in order to find a new home for the store in Midtown Manhattan.
The Drama Book Shop holds special significance for Miranda, as he wrote much of his first Broadway musical, In the Heights, at their original locale. The store proved an important learning ground for him in his teens, as well.
As a teen, I went to the @dramabookshop on 47th. Spent hours reading plays. Felt made for me, a place to go.
In 2002, I met with Tommy Kail in the Drama Book Shop. It gave us a place to go.
Proud to be part of this next chapter.
A place for you to go. https://t.co/LuRJjVM72K

— Lin-Manuel Miranda (@Lin_Manuel) January 8, 2019
"When I was in high school I would go to the old location and sit on the floor and read plays—I didn't have the money to buy them," the Tony Award winner told the NYT.
Miranda and Kail met in the Drama Book Shop's basement, and the latter had a residency for his company Back House Productions in the store after college.
The Hamilton partners are purchasing the shop from current owner Rozanne Seelen. Her late husband Arthur Seelen originally bought the bookstore in 1958. And how much does a staple of the Big Apple theater scene set one back, you may ask? Precisely the cost of the shop's inventory, rent support for their remaining weeks at its current location, and the promise that Seelen could stay on as a consultant.
Seelen expressed her gratitude to the NYT, saying, "It's the chronic problem—the rents were just too high, and I'm 84 years old—I just didn't have the drive to find a new space and make another move. Lin-Manuel and Tommy are my white knights."
On Jan. 20, the Drama Book Shop's current location on West 40th Street will close its doors for the last time. The new owners aim to have the new home for the store open in fall of 2019.