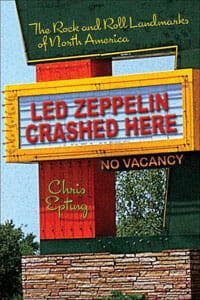 Before MTV, stuff really happened
It's a great book idea, the kind that flares to life after eight PBRs, guzzled at a bar near the Day's Inn in Corpus Christi where, the bartender mentions, the former president of Selena's fan club shot the 23-year-old singer then held off police for nine hours.
Hmm, Mr. Beer Glass—what about a book on all the famous music places like that?
Epting, veteran pop-culture journalist, has this enviable idea between covers now, a 600-entry word-and-picture tour of the notable musical landmarks of the last 60-odd years. The book is photographed in black and white, and it's not especially pretty, but, oh, the places you'll go!
Where did the real Partridge Family live? (Burbank, fool.) Where did Dick Clark host American Bandstand? (Philly, phool.) Where's Zappa now? (Westwood Memorial Park, L.A., not far from Roy Orbison, pushing up those five-octave daisies.)
So many sites, so little time.