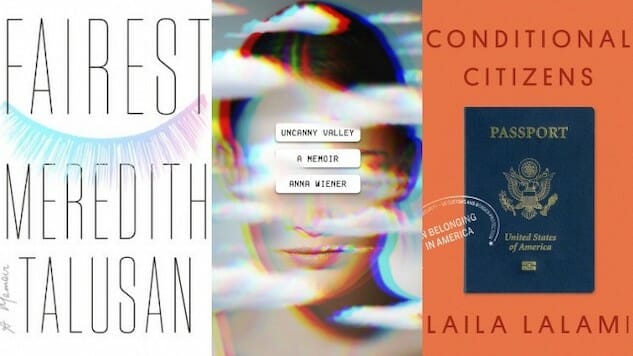 From powerful memoirs to historical biographies to eclectic essay collections, 2020 boasts fascinating nonfiction releases from both debut and established authors. This list includes then 10 books we're the most excited about, all of which hit shelves between January and May this year. Check out the must-read titles below, which are listed in order of release date.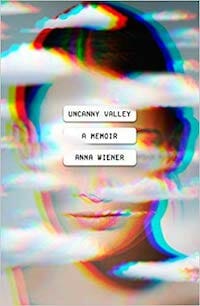 Uncanny Valley by Anna Wiener
Release Date: January 14th from MCD
Why You'll Love It: Anna Wiener's must-read memoir delivers a powerful story about finding herself against the backdrop of Silicon Valley's shifting tech landscape.
Publisher's Description: In her mid-twenties, Anna Wiener left a job in book publishing for the promise of the new digital economy. She landed at a big-data startup in the heart of the Silicon Valley bubble, arriving amidst a massive cultural shift, as the tech industry rapidly transformed into a locus of wealth and power rivaling Wall Street. But amid the boyish camaraderie and ride-or-die corporate fealty, a new Silicon Valley began to emerge: one in far over its head, one that enriched itself at the expense of the idyllic future it claimed to be building. Part coming-age-story, part portrait of an already-bygone era, Wiener's memoir is a rare first-person glimpse into high-flying, reckless startup culture at a time of unchecked ambition, unregulated surveillance, wild fortune, and accelerating political power.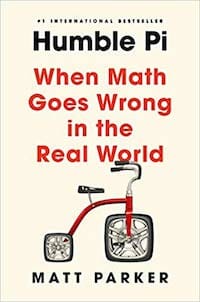 Humble Pi: When Math Goes Wrong in the Real World by Matt Parker
Release Date: January 21st from Riverhead Books
Why You'll Love It: Matt Parker's international bestseller highlights examples of mathematical errors that resulted in real-world consequences, offering an entertaining read for anyone curious about math's role in life beyond the classroom.
Publisher's Description: Math is easy to ignore until a misplaced decimal point upends the stock market, a unit conversion error causes a plane to crash or someone divides by zero and stalls a battleship in the middle of the ocean. Exploring and explaining a litany of glitches, near misses and mathematical mishaps involving the internet, big data, elections, street signs, lotteries, the Roman Empire and an Olympic team, Matt Parker uncovers the bizarre ways math trips us up—and what this reveals about its essential place in our world. Getting it wrong has never been more fun.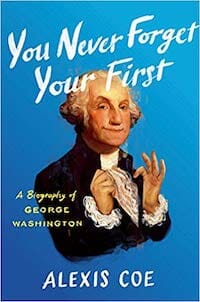 You Never Forget Your First: A Biography of George Washington by Alexis Coe
Release Date: February 4th from Viking
Why You'll Love It: This is not your average biography, and that's a wonderful thing! Alexis Coe profiles George Washington with fresh eyes, promising a fascinating read that strikes a relevant chord with 21st-century life.
Publisher's Description: Young George Washington was raised by a struggling single mother, demanded military promotions, caused an international incident and never backed down. But after he married Martha, Washington became the kind of man who named his dog Sweetlips and hated to leave home. After an unlikely victory in the Revolutionary War cast him as the nation's hero, he was desperate to retire, but the founders pressured him into the presidency—twice. When he retired years later, he left the highest office heartbroken over the partisan nightmare his backstabbing cabinet had created. Back on his plantation, the man who fought for liberty confronted his greatest hypocrisy—what to do with the men, women, and children he owned. You Never Forget Your First combines rigorous research and lively storytelling that will have readers—including those who thought presidential biographies were just for dads—inhaling every page.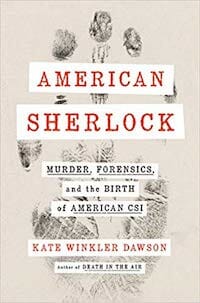 American Sherlock: Murder, Forensics, and the Birth of American CSI by Kate Winkler Dawson
Release Date: February 11th from G.P. Putnam's Sons
Why You'll Love It: True crime fans will adore Kate Winkler Dawson's book, which highlights the intriguing life and legacy of a forensic scientist dubbed the "American Sherlock Holmes."
Publisher's Description: Berkeley, California, 1933. Known as the "American Sherlock Holmes," Edward Oscar Heinrich was one of America's greatest—and first—forensic scientists, with an uncanny knack for finding clues, establishing evidence and deducing answers with a skill that seemed almost supernatural. Heinrich spearheaded the invention of a myriad of new forensic tools that police still use today, including blood spatter analysis, ballistics, lie-detector tests and the use of fingerprints as courtroom evidence. His work, though not without its serious—some would say fatal—flaws, changed the course of American criminal investigation. Based on years of research and thousands of never-before-published primary source materials, American Sherlock captures the life of the man who pioneered the science our legal system now relies upon—as well as the limits of those techniques and the very human experts who wield them.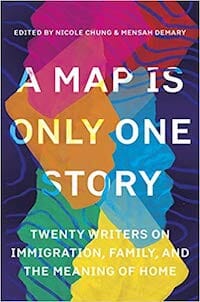 A Map Is Only One Story: Twenty Writers on Immigration, Family, and the Meaning of Home edited by Nicole Chung and Mensah Demary
Release Date: February 11th from Catapult
Why You'll Love It: This collection of essays from both new and established writers is necessary reading in 2020, examining through myriad lenses what it means to "belong."
Publisher's Description: Selected from the archives of Catapult magazine, the essays in A Map Is Only One Story highlight the human side of immigration policies and polarized rhetoric. Victoria Blanco relates how those with family in both El Paso and Ciudad Juárez experience life on the border. Nina Li Coomes recalls the heroines of Japanese animator Hayao Miyazaki and what they taught her about her bicultural identity. Nur Nasreen Ibrahim details her grandfather's crossing of the India-Pakistan border 60 years after Partition. Krystal A. Sital writes of how undocumented status in the United States can impact love and relationships. Porochista Khakpour describes the challenges in writing (and rewriting) Iranian America. Through the power of personal narratives, A Map Is Only One Story offers a new definition of home in the 21st century.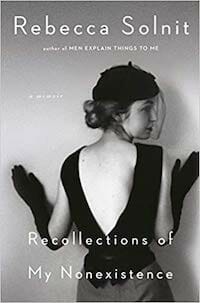 Recollections of My Nonexistence by Rebecca Solnit
Release Date: March 10th from Viking
Why You'll Love It: Writer, historian and activist Rebecca Solnit's highly anticipated memoir reveals how she found her "voice in a society that prefers women to be silent."
Publisher's Description: In Recollections of My Nonexistence, Rebecca Solnit describes her formation as a writer and as a feminist in 1980s San Francisco. Solnit recounts how she came to recognize the epidemic of violence against women around her, the street harassment that unsettled her, the trauma that changed her and the authority figures who routinely disdained and disbelieved girls and women, including her. She explores the forces that liberated her as a person and as a writer—books themselves, the gay men around her who offered other visions of what gender, family and joy could be, and her eventual arrival in the spacious landscapes and overlooked conflicts of the American West. These influences taught her how to write in the way she has ever since and gave her a voice that has resonated with and empowered many others.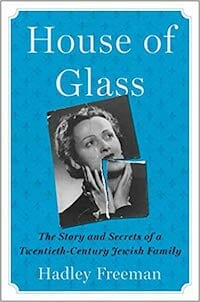 House of Glass: The Story and Secrets of a Twentieth-Century Jewish Family by Hadley Freeman
Release Date: March 24th from Simon & Schuster
Why You'll Love It: Written after investigating her family's secret history, Hadley Freeman's utterly enthralling book explores the "broad range of experiences of Eastern European Jews during Holocaust."
Publisher's Description: Hadley Freeman knew her grandmother Sara lived in France just as Hitler started to gain power, but rarely did anyone in her family talk about it. Long after her grandmother's death, she found a shoebox tucked in the closet containing photographs of her grandmother with a mysterious stranger, a cryptic telegram from the Red Cross and a drawing signed by Picasso. This discovery sent Freeman on a decade-long quest to uncover the significance of these keepsakes and piece together the puzzle of her family's past, discovering more about the lives of her grandmother and her three brothers. This thrilling family saga is filled with extraordinary twists, vivid characters and famous cameos, illuminating the Jewish and immigrant experience in the World War II era.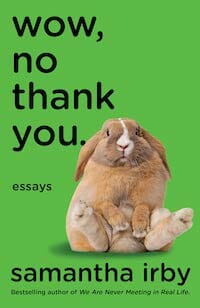 Wow, No Thank You by Samantha Irby
Release Date: March 31st from Vintage Books
Why You'll Love It: Samantha Irby is known for her entertaining essay collections, and her latest promises more laughs and wild anecdotes drawn from her new stage in life.
Publisher's Description: Samantha Irby is 40 and increasingly uncomfortable in her own skin despite what Inspirational Instagram Infographics have promised her. She has left her job as a receptionist at a veterinary clinic, has published successful books and has been friendzoned by Hollywood. She's left Chicago and moved into a house with a garden with her wife in a Blue town in the middle of a Red state where she now hosts book clubs and makes mason jar salads. This is the bourgeois life of a Hallmark Channel dream. She goes on bad dates with new friends, spends weeks in Los Angeles taking meetings with "tv executives slash amateur astrologers" while being a "cheese fry-eating slightly damp Midwest person" who still hides past due bills under her pillow. The essays in this collection draw on the raw, hilarious particulars of Irby's new life.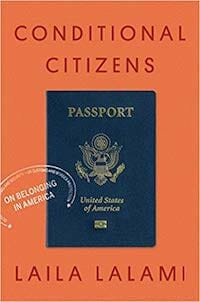 Conditional Citizens: On Belonging in America by Laila Lalami
Release Date: April 28th from Pantheon
Why You'll Love It: After the release of her luminous novel last year, Laila Lalami is back with a timely nonfiction book about conditional citizens—"the people whom America embraces with one arm and pushes away with the other."
Publisher's Description: What does it mean to be American? In this starkly illuminating and impassioned book, Pulitzer Prize Finalist Laila Lalami recounts her unlikely journey from Moroccan immigrant to U.S. citizen, using it as a starting point for her exploration of the rights, liberties and protections that are traditionally associated with American citizenship. Tapping into history, politics and literature, she elucidates how accidents of birth—such as national origin, race or gender—that once determined the boundaries of Americanness still cast their shadows today. Throughout the book, she poignantly illustrates how white supremacy survives through adaptation and legislation, with the result that a caste system is maintained, keeping the modern equivalent of white male landowners at the top of the social hierarchy. Conditional Citizens weaves together Lalami's own experiences with explorations of the place of nonwhites in the broader American culture.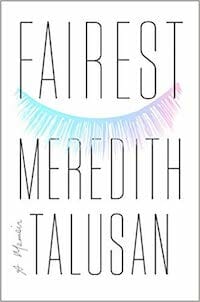 Fairest by Meredith Talusan
Release Date: May 26th from Viking
Why You'll Love It: Meredith Talusan's striking memoir details her coming-of-age journey from the Philippines as a young boy with albinism to the United States as an adult undergoing a gender transition, tackling topics like love and identity with empathy.
Publisher's Description: Coping with the strain of parental neglect and the elusive promise of U.S. citizenship, Talusan found childhood comfort from her devoted grandmother, a grounding force as she was treated by others with special preference or public curiosity. As an immigrant to the United States, Talusan came to be perceived as white. An academic scholarship to Harvard provided access to elite circles of privilege but required Talusan to navigate through the complex spheres of race, class, sexuality and her place within the gay community. She emerged as an artist and an activist questioning the boundaries of gender. Talusan realized she did not want to be confined to a prescribed role as a man, and transitioned to become a woman, despite the risk of losing a man she deeply loved. Talusan's evocative reflections will shift our own perceptions of love, identity, gender and the fairness of life.

Looking for even more reading recommendations? Check out our lists of the most anticipated novels and the most anticipated Young Adult novels of 2020.