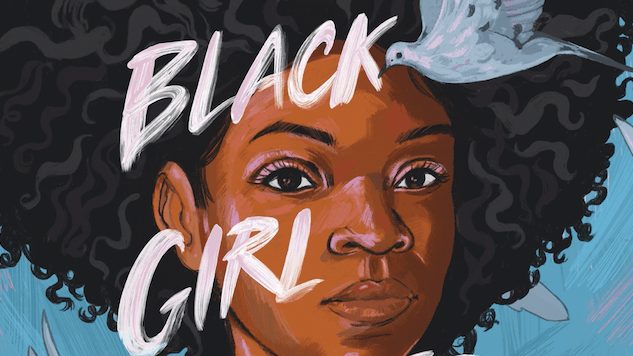 Welcome to 2020, fellow audiobibliophiles! We hope your 2019 holiday listening was entertaining, and you're now ready to dive into something new this year.
Many of the best listens this month will throw you deep into the trenches of historical fiction, including stories set following the Spanish Civil War, the 1915 Armenian genocide and plane crashes in the 1980s. But even if you're not captivated by historical narratives, this month's new releases will have you covered. From nonfiction about math gone wrong in the real world to experimental fiction tackling Asian stereotypes, the best audiobooks of January offer something for everyone.
Happy listening!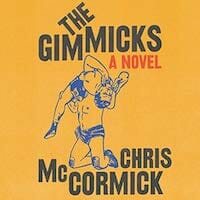 The Gimmicks by Chris McCormack
Narrated by: Will M. Watt, Mike Ortego, Mary Jane Wells
Run time: 11 hours and 24 minutes
Release date: January 7th
Audible | Libro.fm | Overdrive | SoundCloud
Extremely timely in its release, Chris McCormack's new historical novel follows a trio of Armenian characters (plus one U.S. Navy veteran) from 1971 onward. The Gimmicks interrogates and untangles the messy, identity-disorienting legacy of the Armenian genocide perpetrated by Turkey between 1915 and 1922—oh, and the audiobook also has wrestling. More than compelling enough in print, The Gimmicks finds extra dimension in audio, with Will M. Watt, Mike Ortego and Mary Jane Wells putting in performances that are wry, warm and disarming. Watt's and Wells' subtle accents contrast effectively with Ortego's straightforward American one, making for an entertaining listen.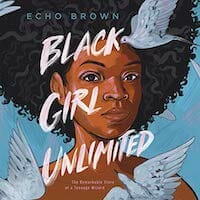 Black Girl Unlimited: The Remarkable Story of a Teenage Wizard by Echo Brown
Narrated by: Echo Brown
Run time: 8 hours and 29 minutes
Release date: January 14th
Audible | Libro.fm | Overdrive
Echo Brown was already a storyteller and performer before becoming an author; her one-woman show Black Virgins are Not for Hipsters (previewed in the clip below) sold out in cities around the world. In translating that experience to the narration of Black Girl Unlimited, her heavily autobiographical debut novel about a "wizard from the East Side" who accesses portals between worlds, Brown settles into a mode that is closer to spoken word than to drama. The story's magic comes more from the natural lilts and lifts in the flow of her words than from any kind of vocal acrobatics or accent work. And with Ibi Zoboi's American Street evoked as a comparative title, this should all be more than enough reason for audiobook fans to check out Black Girl Unlimited.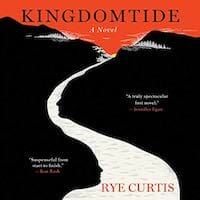 Kingdomtide by Rye Curtis
Narrated by: Maggi-Meg Reed, Jo Anna Perrin
Run time: 9 hours and 18 minutes
Release date: January 14th
Audible | Libro.fm | Overdrive | SoundCloud
Rye Curtis' 1986-set novel Kingdomtide boasts a dual-protagonist narrative featuring two women: one a plane crash victim who starts the story at age 72, the other the troubled veteran park ranger leading the efforts to rescue her. It was always going to catch our eye, as great stories centering around older women are rare. Kingdomtide's lost-in-the-wilderness experience will deeply resonate with listeners, and narrators Maggi-Meg Reed and Jo Anna Perrin bring characters Cloris and Debra to life with such ringing clarity that audiences may feel lost in the wild with them.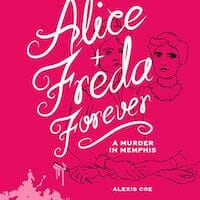 Alice + Freda Forever: A Murder in Memphis by Alexis Coe
Narrated by: Sophie Amoss, Alexis Coe
Run time: 4 hours and 55 minutes
Release date: January 21st
Audible | Libro.fm | Overdrive | SoundCloud
As Alexis Coe demonstrates in her investigation of the 1892 murder of Freda Ward by her spurned fiancée Alice Mitchell, public obsession with true crime is by no means a modern phenomenon. Tracing the whole affair and the fallout after Freda's death, Alice + Freda Forever (originally published in 2014, but only making its way to audio this month) is deeply researched and thoughtfully composed. Supported by Sophie Amoss' captivating narration, this audiobook creates a sense of intimacy its two central figures and give extra dimension to the social context behind their affair.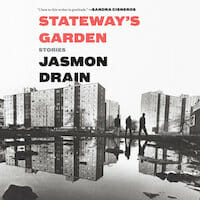 Stateway's Garden: Stories by Jasmon Drain
Narrated by: Guy Lockard, Shayna Small, Sullivan Jones
Run time: 7 hours and 43 minutes
Release date: January 21st
Audible | Libro.fm | Overdrive | SoundCloud
It's no secret we love adding short story collections to our audio queue, or that we'll always stop for a Guy Lockard narration. Stateway's Garden, Jasmon Drain's 1980s-set debut that explores the lives of young characters coming of age in the last years of Chicago's Cabrini-Green housing projects—and which features Lockard alongside alternating narrators Shayna Small and Sullivan Jones—goes well beyond satisfying both conditions. Audiences are fortunate that they get to kick off their 2020 short story listening with this collection.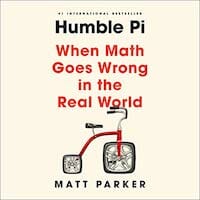 Humble Pi: When Math Goes Wrong in the Real World by Matt Parker
Narrated by: Matt Parker
Run time: 9 hours and 33 minutes
Release date: January 21st
Audible | Libro.fm | Overdrive | SoundCloud
Australian stand-up mathematician (his own words) and former maths teacher Matt Parker's new nonfiction book, Humble Pi, explores a cacophony of "glitches, near misses and mathematical mishaps involving the internet, big data, elections, street signs, lotteries, the Roman Empire and an Olympic team." Humble Pi attempts to answer every student's perennial question about the utility of math outside the classroom by showing how mathematical errors have led to serious mistakes. On paper, it's fun. On audio, with Parker's stand-up sensibilities and Australian accent driving the narrative, it's exceptional.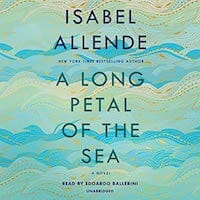 A Long Petal of the Sea by Isabel Allende
Narrated by: Edoardo Ballerini
Run time: 9 hours and 46 minutes
Release date: January 21st
Audible | Libro.fm | Overdrive | SoundCloud
Taking its title from a Pablo Neruda line describing Chile, A Long Petal of the Sea will satisfy the greatest of Isabel Allende's fans as much as it will charm Allende newcomers. It follows a man and a woman escaping the Spanish Civil War on a ship bound for Chile—a ship chartered by poet-diplomat Neruda, himself. With narrator Edoardo Ballerini delivering one of his melodic, smartly paced performances, it makes for a mesmerizing listening experience. Allende's words have a poetry of their own, after all, so what better way to experience them than aloud?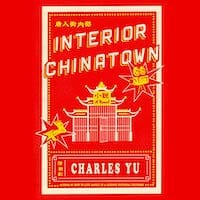 Interior Chinatown by Charles Yu
Narrated by: Joel de la Fuente
Run time: 4 hours and 20 minutes
Release date: January 28th
Audible | Libro.fm | Overdrive | SoundCloud
Charles Yu's Interior Chinatown begs to experienced multiple times, both in print and audio. Wildly innovative in form, it tells the story of Willis Wu/Generic Asian Man through snippets of scene and character descriptions from Black and White, a procedural cop show that's in production in the nearby Golden Palace Restaurant. Actor Joel de la Fuente (most recently seen playing Inspector Kido on Amazon Prime's The Man in the High Castle) gives Willis' inner monologue a compelling lightness, straddling the line between resigned and hopeful when Willis goes through the same scripted stereotypes, day after day. Clocking in just under four and a half hours, Interior Chinatown hits the sweet spot for an inventive listening experience.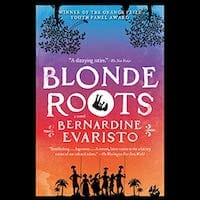 Blonde Roots by Bernardine Evaristo
Narrated by: Sandra James-Young
Run time: 8 hours and 5 minutes
Release date: January 28th
Audible | Libro.fm | Overdrive | SoundCloud
Taking the history of the transatlantic slave trade and transforming it—by making Africans the ones enslaving Europeans for centuries—is a high wire act. But Booker Prize-winning author Bernardine Evaristo is the right person to pull it off. As written by a biracial Brit, the enslaved life and attempted escape of Doris, the white Englishwoman at the satirical novel's center, gains layers of complexity. As narrated by black British actress Sandra James-Young, who imbues Doris with an optimistic fierceness, that complexity only grows. Evaristo and James-Young would be a stellar pair no matter the context, and their team-up makes the Blonde Roots listening experience exceptional.

Looking for even more reading recommendations? Check out our lists of the best books and the best Young Adult novels of January.
---
Alexis Gunderson is a TV critic and audiobibliophile. She can be found @AlexisKG.