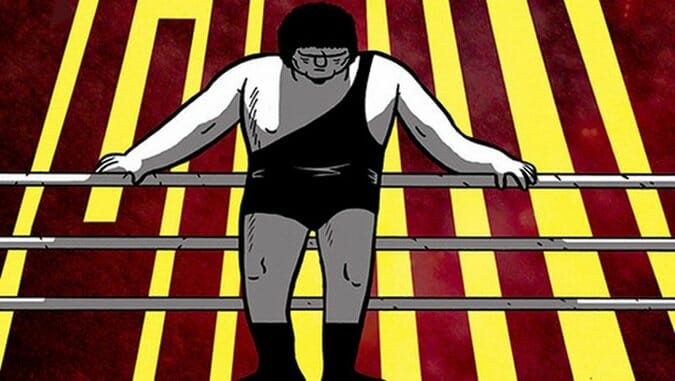 Writer & Artist: Box Brown
Publisher: First Second
Release Date: May 7, 2014
Brian "Box" Brown is probably still best known for his autobiographical comics, Love Is a Peculiar Type of Thing or Bellen!, which ran online before being collected as These Dreams Keep Me Going These Days. So it may seem slightly incongruous for him to take on the biography of a monumental pro wrestler famed for his role in The Princess Bride. This original graphic novel presents one set of stories operated on a simple, relatable scale. Flying around the world, the book unites stories from a range of sources and encapsulates a man who would warm up for a night out by drinking an entire bottle of whiskey.
But Brown's new project doesn't quite create a dichotomy with his previous oeuvre. The artist's stripped-down visual style, which deals in outlines and flat planes of black and white rather than 3D modeling or gray washes, creates connections between both kinds of stories. His laconic narration not only fits with the minimalist art, but also ends up intensifying the pathos of the events depicted. Understatement, especially when it addresses overwrought conventions like addiction, mortality and pro wrestling narratives, can be a powerful way to communicate depth.
Autobiographical and biographical comics alike have a tendency to tell too much and show too little, but not this one. Andre the Giant may err too far on the side of terseness. Brown has always favored the episodic, which may be why the webcomic was a good medium for him. One of his strengths is requiring minimal room to effectively lay out a story. Here, it can feel like the book's structure mimics a string of pearls, each separate episode in Andre's life standing by itself on the string, leaving the reader to connect the pieces and find the overarching themes.
The question is whether that structure is a deliberate choice, one necessitated by the sparseness (or possibly the repetitiveness) of the source material, or a weakness in creating a more unified narrative. It's not exactly unusual in the genre. Peter Bagge's recent biography of Margaret Sanger takes a similar approach, as does Chester Brown's renowned Louis Riel. All three books have interesting notes in the back, pointing to sources and explaining artistic decisions. Maybe it's a hazard of the comics biography, which doesn't allow for the same kind of verbal complexity (i.e., length) as its prose counterpart, or maybe it's that these creators feel uncomfortable imposing a more novelistic approach on their material. Whatever the answer, it's a small complaint, and the book is an illuminating take on a public figure little known beyond the wrestling world.