Velma: Mindy Kaling's Take on Mystery Gang's Super Sleuth Can't Unmask a Clear Identity
Comedy
Reviews
velma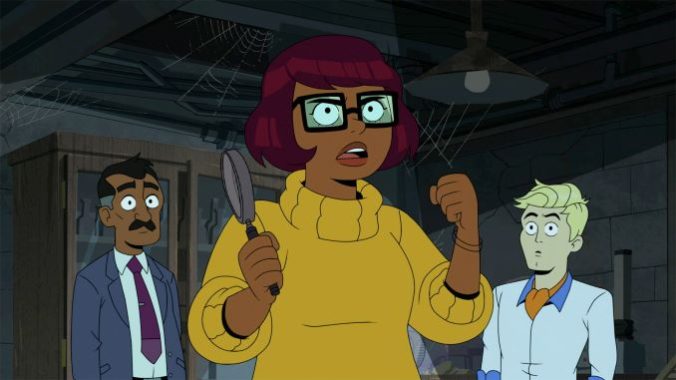 Scooby-Doo and Mystery, Inc. have been reinvented across the mediums of television and film for over 50 years. After decades of entertaining children by solving mysteries, now seems a more appropriate time than ever for those meddling kids to get that grown-up reinvention. Granted, Scooby-Doo (2002) screenwriter-turned-DC-films-head James Gunn attempted to do that before WB meddled with the edits to maximize their profits. With Velma, showrunner Charlie Grady and executive producer Mindy Kaling attempt to solve the mystery of retooling the gang for a mature audience, while adding depth to the most one-dimensional 2D-animated characters in history. Sadly, they're a few clues too short from unmasking a serviceable series.
Velma tells the origin story of the brainiac behind every mystery, Velma Dinkley (Mindy Kaling), a smart and pushy teenage South-Asian sleuth in the making, on the search for her missing mother, Diya Dinkley (Sarayu Blue). She leads an isolated life: her neglectful father, Aman (Russell Peters), puts all of his attention on his pregnant girlfriend, Sophie (Melissa Fumero). At her high school, Velma butts heads with her former best friend turned enemy Daphne Blake (Constance Wu) and her clique of fellow popular girls, while pining for the spoiled, rich, beta-male nepo-baby Fred Jones (Glenn Howerton). Her only consolation is her best friend Norville (better known as Shaggy) Rogers (Sam Richardson), who simps for Velma harder than Milhouse for Lisa .
In Velma's town of Crystal Cove, a serial killer is on the loose and targets all the popular girls at Crystal Cove High, slicing open their heads and leaving their bodies without a brain. With a mystery pretty much at her front door, it's up to the scrappy wannabe detective to tackle the case on her own, along with settling the love quadrangle that forms around her.
Out of the adult animated comedies fare, Velma's animation takes the cake as one of the most visually striking shows I've seen in quite some time. It strays from Hanna-Barbera flair and goes for a cartoonish graphic novel style, bearing resemblance most to classic Archie Comics along with an anime-influenced backbone for its fast-paced expressions. The unique character designs that race-bend most of the characters, excluding Fred, have a variety of sharped-edged, angular-faced features that makes them stand out from most of the prior mystery team designs.
There's great animation detail that took me off guard, particularly with the use of shadow, lighting, and color styling to add a refreshingly suspenseful atmosphere to the scenery. One fascinating juncture is that whenever Velma gets panic attacks, she experiences hallucinations of grotesque personifications of whoever is on her mind. Art director Valerio Ventura gives the backdrop of Crystal Cove a ghastly, dreadful feel that nails the small town Midwestern vibes, resembling a mix of notable horror media locations such as Hawkins and Woodsboro.
The series also flourishes through the voice performances of its comedy-heavy cast, who bring their respective characters to life. Kaling's Velma is as charismatically Mindy as you get. Constance Wu lends a well-rounded range of fierceness and sweetness to Daphne. Sam Richardson brings his typical high-energy nice guy approach to Norville (no, they don't make him a stoner stereotype either, and it's cheekily addressed immediately). The MVP is Glenn Howerton as the clueless, dim-witted Fred. Out of the ensemble, Howerton is the only character who puts on a voice. He has this consistently shrill and whiny tone that garners good laughs, as if Dennis from It's Always Sunny didn't get his Adam's apple. The other supporting voice cast—featuring Jane Lynch, Wanda Sykes, Gary Cole, Yvonne Orji, Stephen Root, and Fortune Feimster, to name a few—deliver the same magnetic charisma as the main to keep the energy of the series humming.
As far as other Kaling-variants go, Velma parallels Never Have I Ever's Devi to a tee. They're both judgemental, possessive, selfish, and in a lonesome rut due to the loss of a loving parent. Thankfully, Velma breaks the Kaling syndrome of her lead being in pursuit of a mediocre white dude. Her jumping-off crush point is Fred, but those feelings for him shift faster than the speed of sound as a sweet and well-developed romance between Velma and her frenemy Daphne is explored. Thank the heavens for that, because the swirl relationship trope within her South-Asian leads was reaching Kenya Barris levels of alarming.
What holds Velma back from being a notable entry to the Scooby-Doo library is the identity crisis it faces. The writing is constantly at war with itself, unable to decide whether it wants to be an absurdist satire of the horror genre or the show's source material, or play as a straightforward reinvention of the characters in a YA-lens. By tackling all of that simultaneously, Velma comes across as a hodgepodge of ideas that never connect, especially in its humor. The comedy lands when it veers into absurdism with visual gags and everything Howerton's Fred says. What falls flat is the frustrating meta approach it takes. It's heavily reliant on analyzing and addressing horror, YA, or Scooby-Doo tropes along with quippy pop culture references as the basis of its humor. The combination of meta and pop culture comes across as more annoying than it does funny. You go in wanting Kevin Williamson vibes, but you come out getting Ryan Reynolds.
Even as an adult animated show, it's more in tune with the tone of an early 2000s MTV series that plays to a TV-14 crowd than MA. No F-bombs are dropped, and outlandish horror violence with blood spurts is only occasional.
Out of the eight episodes I screened, the season's overarching mysteries regarding the serial killer and the disappearance of Velma's mom are all well-developed, but the wacky episodic plots that ensue are often played straightforwardly with little nuance. Whatever character development gets explored is too fast-paced to allow the relationships Velma shares with other characters to properly marinate. It's the same sentiment I feel towards another Mindy project, The Sex Lives of College Girls, especially with its short 24-minute or less episodes.
Many might compare Velma to Harley Quinn due to its adult, pop culture-spewing, chaotic nature. But the best comparison I can draw is Scooby Doo! Mystery Incorporated (2010), which bears similarities in its aspirations to flesh out the classic characters and crank up the teen drama. That show had a clear identity and aim in what it was trying to accomplish, striking the perfect balance of being humorous and adding depth to a preexisting formula. This show, though, is going through the motions, trying to have its cake and eat it too at every turn.
While the incredible animation and a talented voice cast keep things entertaining, Velma's inconsistent tone and humor prevent it from unmasking a darn good show. While it's (barely) able to function as a Scooby-Doo show without the talking Great Dane present, you can't help but strongly feel his absence.
---
Rendy Jones is a film and television journalist based in Brooklyn, New York. They are the owner of self-published outlet Rendy Reviews, a member of the Critics Choice Association, and a film graduate of Brooklyn College. They have been featured in Vulture, The Daily Beast, AV Club and CBC News.