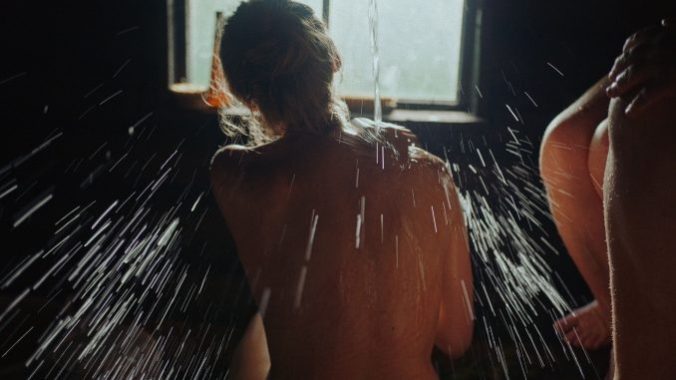 The Russian bath across the street from where I used to live in Chicago, once owned by the mob and now known as Red Square, is a cultural rarity. There are very few saunas in the U.S. retaining its form: The water sizzling on the hot rocks, the swollen wooden benches, the whole "get smacked by some branches" thing (note: I haven't done this). But it's a far cry from the community and conversations generated by the smoke saunas in Võrumaa, a southern county of Estonia bordering Latvia and Russia. With its traditions captured in delicate, sweaty vignettes by filmmaker Anna Hints, Smoke Sauna Sisterhood's anecdotes fill your lungs and engulf you, until its women's secrets drip down your body.
Hints films a year's passage, with seasons passing over a log cabin isolated in the forest. Some months, fog rolls off the nearby lake. Others, the ice is so thick, the woman tending the sauna has to smash a hole and drop down a wooden ladder for her clients' cooldown dip. But no matter the weather, the building is filled with steam and women, baring it all. Literally and figuratively: Smoke Sauna Sisterhood constructs gorgeous topographies from the naked, relaxing bodies, while they expunge some of their biggest stresses.
While lovingly filming reddened skin, Hints and her subjects play with vulnerability. They're all naked all the time; the brief shots of people stoking the flames and drawing buckets of wellwater are really the only time we see clothing. Their bodies are the main canvas of the film, positioned in different configurations as the droplets paint them. Flesh becomes so omnipresent as to be abstract, worth looking at both for what it is and for the gradations in texture and shadow that play across it. Breasts, butts, bellies, the curves of calves—Smoke Sauna Sisterhood appreciates the female form deeply, and uses it to accentuate its narrative storytelling. But the subjects are also, mostly, shot from the neck down, aside from the woman keeping the place going. It's the documentarian's struggle between intimacy and anonymity, condensed in each frame. Even the older woman who manages the place, smoking meat in the same building, and arrives to spin her own wisdom, appears as wisps of ether, as if all Estonians will one day evaporate. I suppose that's not too far off from the truth.
The stories these women tell are similarly equalizing. The topics they choose to vent about—including queerness, abortion, pressure to partner up, sexual assault, body image, and dick pics—are completely specific to each of the women, yet accepted by the larger sauna (and us) as universal. Yet, with that universality comes tragedy. Of course, because of how women are treated in this world, some of the most relatable stories they share are harrowing. But even as they attempt to cleanse their minds, sweat out all their stresses, there's love, and even tension-breaking humor, as they commiserate, cry, hug and wring their hands together. Salt rubs and whispered chants remind us that Estonians have a special place for this cleansing event.
When it's all almost too much, when the heat is nearly overwhelming, the doc gives us a break. We literally head outside. We gaze at the trees, the clouds. Breathe some air that's not dense with worry. Hints makes the atmosphere denser and denser with crowded frames, humid color and closely recorded sound. We need all the cooldowns it gives us. Smoke Sauna Sisterhood is a cathartic and lovely experience, letting us sneak a peek into a private ceremony that quickly trades its mystique for hospitality. You don't quite feel like taking a slap from a frond at Red Square as the credits roll, but you understand why those devoted to this kind of therapy find it so rewarding—and lucky to have gotten the tour firsthand from a debut filmmaker as assured as Hints.
Director: Anna Hints
Writer: Anna Hints
Release Date: January 22, 2023 (Sundance)
---
Jacob Oller is Movies Editor at Paste Magazine. You can follow him on Twitter at @jacoboller.
For all the latest movie news, reviews, lists and features, follow @PasteMovies.