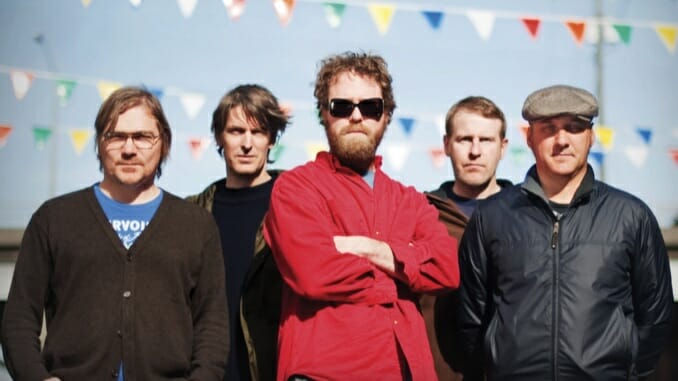 Pavement's going to Iceland. (Sorry, Greenland.) The '90s indie rock band just wrapped up its first U.S. and European tours in 12 years, but will keep rolling along into 2023 with spots on various festivals and a three-night stand in Iceland in July. It'll be the band's first shows in the land of fire and ice, and should be a special experience for fans of Pavement, especially ones who also love volcanoes.
The three shows go down at Eldborg Hall in Reykjavik on Thursday, July 27, Friday, July 28, and Saturday, July 29. Tickets are available as a three-day pass or for single shows, and officially go on sale on Wednesday, Jan. 18, at 12 p.m. ET. More information, including ticket purchasing, can be found here. Those three-day passes start at $372, whereas those single day tickets will set you back at least $124. I've seen Pavement over a dozen times, but I've never been to Iceland, and this seems like a pretty good reason to finally go.
Pavement's three-night stand in Iceland is the latest destination concert promoted by Bucket List Tours. They've brought a number of bands with passionate fan bases to Iceland for engagements like this, including Wilco and Umphrey's McGee. It's a cool concept: you go to a place you've never been before, get to check out the gorgeous scenery and the unique culture of Iceland, and then see one of your favorite bands up to three nights in a row. Meanwhile artists who wouldn't necessarily play Iceland get to bring their music to the country, letting locals see shows they wouldn't otherwise be able to. Everybody wins.
Ticket presales have already started, with the general sale starting on Wednesday, Jan. 18. This isn't an all-inclusive package; you'll have to book your own flight and lodging, although hotel discounts will be available through the website.