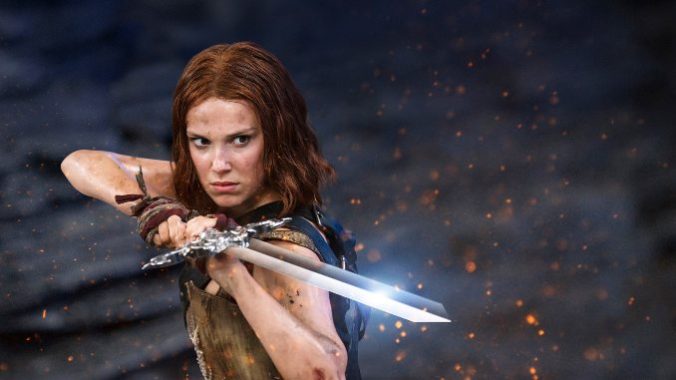 Netflix has released their preview for 2023, the supersized trailer functioning as a taster for their roster of upcoming releases. Some of these movies are generating buzz from existing fanbases, some of these films feel like they are generated by an AI interface fed the words "blockbuster," "explosion" and "fight," all of them are coated in the shiny, grey tones now synonymous with Netflix. Regardless of their quality, Paste will review each of these as they are released through the year.
Take a look at the preview below, then read on as we unpack some of the individual films:
---
Damsel
After rocketing to child stardom with Stranger Things, Millie Bobby Brown has drawn her young fans to all her projects. As a result, Netflix has sought to secure her in many of their upcoming projects, including Damsel. Damsel is described as a "taut contained thriller" which follows a princess who thinks she is to be married to a prince before being dropped into a dragon pit and escaping herself, effectively distorting the "damsel in distress" trope to feminist ends. The clip featured in the preview centers Brown, who sits rigidly, appropriately regal, before cutting to a shot of her, bedraggled, wielding a comically large sword. The Juan Carlos Fresnadillo-helmed project also features Angela Bassett and Robin Wright, crowned and draped in historically nonspecific royal garb.
Major Players: Millie Bobby Brown, Angela Bassett, Robin Wright
---
Pain Hustlers
In recent years there have been a slew of screenplays adapted from feature articles, rather than books or plays. Pain Hustlers follows this trend. Loosely based on The New York Times article "The Pain Hustlers," this film follows Liza (Emily Blunt), who uses her charm and perseverance to deceive her way into the upper ranks of the pharmaceutical industry. The trailer features Blunt lending her winning charisma to the protagonist alongside the newly-goatee'd Chris Evans. "I could take you out of here," he drunkenly mumbles. David Yates, best known for his work on the later installments of the Harry Potter series, feels like an odd choice to helm a project that should feel tonally similar to The Wolf of Wall Street or American Hustle, but maybe Adam McKay was unavailable?
Major Players: Emily Blunt, Chris Evans, Andy Garcia, Catherine O'Hara
---
The Killer
By far the most exciting project in this line-up is the film which promises David Fincher's return to Netflix after the devastating cancellation of Mindhunter. The clip offered a snippet of Fincher's traditional cool, detached style with a glimpse of a reflective motorcycle helmet and the crescendo of glass shattering under a falling body. The film follows the arc of the French graphic novel of the same name, with Netflix summarizing it as "a brutal, bloody and stylish noir story of a professional assassin lost in a world without a moral compass."
Major Players: Michael Fassbender, Tilda Swinton, Kellan Rhude
---
Leave the World Behind
"Something is happening," Amanda (Julia Roberts) proclaims, eyes glinting, shoulders squared, "and I don't trust them!" Despite its bland construction, this sentence is comforting! We know Julia Roberts in this mode! Determinedly pursuing her truth despite others' insistence to let things be. If nothing else, it's nice to see her access this once again. This time she is accompanied by Mahershala Ali and Ethan Hawke for Leave the World Behind—an adaptation of Rumaan Alam's critically praised third novel, a story about societal collapse that eerily parallels the COVID-19 pandemic. Directed by Mr. Robot creator Sam Esmail, Leave the World Behind will chart the intimate aftermath of how a couple functions after a mysterious, national catastrophe.
Major Players: Julia Roberts, Mahershala Ali, Ethan Hawke
---
They Cloned Tyrone
Ever since Attack the Block we have been waiting for John Boyega to return to the niche sci-fi-comedy subgenre. Now with They Cloned Tyrone, it seems he has. The plot is described as an ominously nonspecific "series of eerie events" which forces three people together, left to expose government conspiracies. The glimpses caught in this preview shows grainier footage with colorful costumes, a departure from the flatness of Netflix's traditional aesthetic. Juel Taylor, best known for writing Creed II, leads this impressive cast in the R-rated comedy.
Major Players: Jamie Foxx, Kiefer Sutherland, John Boyega
---
These are only a few of the films promised by the streaming service. The trailer also featured moments from comedies You People, Murder Mystery 2, Your Place or Mine, A Family Affair and animated feature Leo. They also spotlighted their more action-packed films with Luther: The Fallen Sun, The Mother, Extraction 2, Heart of Stone, Lift, Rebel Moon.