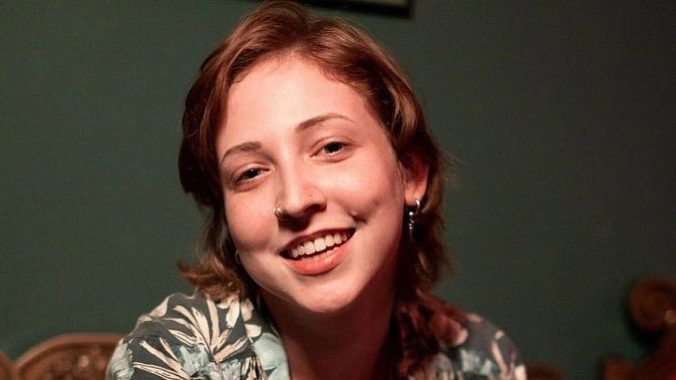 Comedian Max Gross' journey has been a varied one, moving from an internship at the online satire site The Belladonna Comedy, to a social media role with The Daily Show with Trevor Noah, to writing for The Onion and Reductress. All the while, Gross amassed an online following for stand-up clips featuring his clever writing and honest look at gender affirmation surgery.
In fact, Gross has documented their pre- and post-top surgery processes on both his TikTok and Instagram, even going as far as including a timeline and answering questions DM'd to them via his Instagram stories.
Gross, a friend of mine from his days at The Belladonna Comedy and my time in New York, was kind enough to catch up with me about comedy, social media, and transitions.
This interview has been edited for clarity and length.

Paste Magazine: How did you originally get into comedy? And how long have you been in the comedy scene?
Max Gross: I think the start of it was…I played piano for 12 years and I was very used to being on stage—I was, like, told that I was good at being on stage. And then I was in my high school's jazz band, and I was the only performer that wasn't afraid to talk to the audience. So they would have me host for the shows. Then, in college, I started doing sketch writing stuff for my school's sketch show, and I was like, "Okay, I'm good at being on stage. I'm good at talking to people. I know I can write funny things. I could probably combine these skills." And I'm glad I did!
Paste: And you're from Maryland—so this took place in Maryland, and then you moved to DC?
Gross: So this took place in North Carolina. I went to Elon University—no relation. That was in Burlington, North Carolina, so I would go to Greensboro and Raleigh mostly to do comedy and that was where I spent my first year and a half, two years. When I graduated and moved back with my parents, that was in Maryland. But the Maryland comedy scene is Baltimore, and I was really far from that. So DC was closer and I was part of the DC comedy scene despite not living in DC proper.
Paste: The whole DMV area?
Gross: I was still within that, but I was taking the Metro to stuff all the time. I can't drive so my comedy has always been a little limited [that way].
Paste: And then you were the editorial assistant—or the intern?—for The Belladonna Comedy?
Gross: Yeah, forever ago. I totally didn't even think to bring that up. That was summer 2018—right after I graduated college when I had the least hope for myself, or any comedy career, I've ever had. Them taking a chance on me was the best thing that happened that summer.
Paste: Nice. That's actually how I met you, at The Belladonna Comedy—
Gross: I still have our little Gmails—I still have Gmail chats that we had.
Paste: Now I'm just tracing your comedy career—then you decided to move from DC up to New York, and you got a job on The Daily Show?
Gross: Yes, I was doing social media stuff for them—it was not a creative position. I can't claim that it was in any way related to my comedy career. I thought it would be—foolish, foolish of me to think so. I moved here for that job, and it was a night shift. I was 4 p.m. to 1 a.m. so I could not do stand-up while I was working there.
Paste: Man, yeah, so not only did it not pan out for comedy, it inhibited your process.
Gross: Yeah, for all of 2019, I was like, "Fuck, I can't do anything." And then the pandemic happened and I was like, "Okay, well, now everybody else also can't do anything."
Paste:That's around the time that you started hitting [the Brooklyn comedy club] Tiny Cupboard a lot.
Gross: A month or two after I was vaccinated, and people started to be vaccinated, I went back to my set and Tiny Cupboard. Yeah, that's where I started going back for the most part.
Paste: I remember a post that you made around that time and it really resonated with me—part of the reason why I left New York was because of COVID and the pressure to reenter society—because you were like, "Everyone says they did everything right when they got COVID and still got it, but I didn't do everything right because I felt the pressure to keep up with the comedy circuit."
Gross: Yeah, I mean, at the time, I got it in November 2021, so it was right before everybody got a round of omicron in the Brooklyn comedy scene. I think I probably had omicron early—
Paste: Early adopter!
Gross: Early adopter! But yeah, I was going to so many mics a week and I was keeping my mask on all the time, except when I was on stage, but that's not—you're still taking it off—that's not helpful. Now, especially, I'm back out but I have my mask on all the time. Isolating before top surgery also freaked me out and I'm still recovering from how anxious I was about that.
Paste: Let's talk about that—then you decided to transition. You started taking the steps, and doing a countdown.
Gross: I realized I was some form of trans—at the time, I was like, "Oh yeah, probably nonbinary"—in October 2020. There were signs along the way; it's not like it came out of nowhere. But I didn't tell anybody and I wasn't doing comedy, really, in New York yet. I was pretty much living "closet is glass" in front of people who knew me in person—but no trace of that anywhere my parents could find. Then I came out to them and everybody else at once in January of 2022 with my article about the Sex and City reboot.
Paste: You're a scholar of And Just Like That—I remember that article.
Gross: In retrospect, one of the funniest things that I could have possibly done. So that was a big step, and then I could publicly talk about it for the first time and I wasn't afraid of jokes that I was telling getting back to [my parents]. And I say "scholar" because I found out a [personal essay] class at NYU was teaching that article.
Now it's just talking about who I am and letting other people pick up pieces. This is one of the rare times my parents haven't been the last to know. But this time, I did talk to my mom when I was home for the consultation for top surgery and when I was home for surgery. I've come out to [my parents] so many times for so many things at this point, I know they're gonna be accepting of it.
Paste: You don't have anything to worry about on that front?
Gross: No, not at this point. [laughs] In terms of the top surgery timeline, I knew I wanted it for a really long time—probably close to the entire time I've been out to myself. Slowly, in more waves, I was like, "Okay, yeah, this is getting intolerable." I had my consultation in September [of 2022]—I called to get one in June, July. I was supposed to have the soonest available surgery dates, like February or March, but somebody canceled so I got a December date. So I got it a lot faster than people normally do.
Paste: Very cool. Expedited. So you were already getting a big following on TikTok with your stand-up and then, when you started undergoing this process, you documented it on Instagram, were having a dialogue with all the people watching, and started amassing a following there?
Gross: I think some of that came over from TikTok, but every time Clara Olshansky tags me in anything a bunch of people come find me which is amazing. And every time Lukas Arnold tags me in anything—like when we did a roast and posted clips of that—people came to find me. Then I just had the joke about shotgunning applesauce blow up. I got, like, fucking 4000 followers out of nowhere.
But after I, completely randomly, had a TikTok blow up, all these people followed me and it happened, like, two days before I had surgery. So suddenly, I had twice the amount of people watching what's happening, and I got so many messages from people that were like, "You don't know me, but I'm really hoping this goes really well" or people being like, "I've been following this countdown and I'm so excited for you."
It's weird that some of the people are younger than me—like I ended up seeing in their bio they're 14, 15, 16—and these kids have messaged me and said it's inspirational to see a trans-masc comic exist. And that's absolutely fucking crazy—this is all new for me.
Be sure to check out The Flamethrowers, an LGBTQIA+ roast, hosted every other month by Max Gross and Clara Olshansky at Caveat NYC.
---
Brooke Knisley is a freelance journalist and comedy writer. She has balance issues. Let her harass you on Twitter @BrookeKnisley.