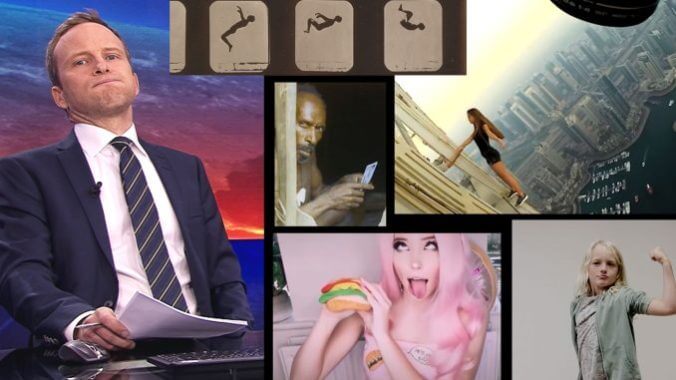 You can't deny that the creation of images, thanks to everything from the TV we watch to the social media we participate in, is one of the most prevalent and important facets of our daily lives. But you don't have to explain it like Fantastic Machine.
The documentary—with the pretentious full title of And the King Said, What a Fantastic Machine, after the British monarch whose coronation Georges Méliès staged and filmed—is a bad undergrad media studies paper, given shape and movement by directors Axel Danielson and Maximilien Van Aertryck. Its shambling, self-important history of the captured image, from camera obscura devices to livestream webcams, is a condescending, eyeroll-inducing lecture for people that've never watched a behind-the-scenes clip, used a camera, or thought twice about what they were shoving into their eyeballs. Its intended audience of indie-documentary-watching media illiterates might exist, but I certainly don't know who they are.
Am I just a jaded media professional, who's well-versed in things like TV ratings, commercial sales, polarized cable news, and green screens? I mean, yes, I am, but I don't think that's the problem here. Your grandmother uses an iPad. Your young cousins are going viral making film snippets, using sophisticated editing techniques so easily that it'd make Golden Age Hollywood's head spin, and thinking nothing of it. That doesn't imply that they necessarily think critically about everything they come across online, or in movies, but Danielson and Van Aertryck's observations are so basic as to be insulting.
Is it easy to note that Méliès' illusory stop tricks led directly to teens putting similar cuts in their TikToks, without them needing to know The Vanishing Lady? Sure. To remind us that the moving image empowers dictators, plopping down footage of Stalin, Hitler, Trump and Putin? Definitely. These bland clips ask us, "Did you know that movies could be propaganda?" That they could be bad? If you didn't, an archival interview with Leni Riefenstahl will walk you through Triumph of the Will. Did you also know it can be good, perhaps by documenting proof that the Nazis Riefenstahl filmed committed heinous acts of genocide? Well, don't worry, Fantastic Machine bluntly clocks you with this right after.
While Fantastic Machine isn't always wrong—yes, like any technology or art or tool, filmmaking's value and morality comes from those using it—it's always devastatingly simple. Annoying classical music underscores its desire for grandiosity. Even here, there's no originality—"In the Hall of the Mountain King," as always, becomes shorthand for "Uh-oh, isn't this getting a little out of hand?" A photo of white photographers documenting a Haitian tragedy is deployed with such pride, you'd think the directors took the meta-picture. "A lack of perspective can distort what the world looks like," voiceover reminds us. But, aside from the easy lay-ups which make up the film's entire game plan, the documentary can also just be wrong. Its ogling and ridiculous tone, playing viral videos at us with only the mildest hints of analysis, often dumbs things down to their most vapid reading. Mass shootings in the U.S., for example, aren't entirely due to the "if it bleeds, it leads" ethos of the news cycle; the impossible amount of guns in this country also has something to do with it. But that's a little complex for this film, as is the radicalization of the media-saturated population thanks to the rabbit-holing push of corporate algorithms.
But at least these surface-level grapplings are better than the "put your phone down, kids" finger-wagging Fantastic Machine does when watching someone scroll Instagram, or do dumb nonsense (pose, dance, fall through ice) for their channel/feed/brand. There's no commentary, it just looks, mouth agape at the very existence of reaction YouTubers, Swatted Twitch users, streaming insurrectionists, and other phenomena of the modern age that bear actual analysis by those with something to say.
Did you know images can make you feel things? Movies—things that aren't even real! Imagine. This blows Fantastic Machine's mind, and it's pretty sure that it blows your mind too. It's a bleak way to approach an audience, one with the same kind of patronizing superiority that fills so many obvious "ever heard of it?" TikTok trends, video essays and Instagram captions. That faux-expertise (the same kind critiqued of news anchors by this very documentary) doesn't care about informing, about explaining, about inspiring others to examine things more deeply. It cares about being seen as important, and smart, and worthy of being shared by people who want to—by virtue of sharing it—exude those same qualities. There is a dire need for media literacy, for more people to question how and why the things they watch were created, but those who need it won't get it by being talked down to like this.
Director: Axel Danielson, Maximilien Van Aertryck
Release Date: January 23, 2023 (Sundance)
---
Jacob Oller is Movies Editor at Paste Magazine. You can follow him on Twitter at @jacoboller.
For all the latest movie news, reviews, lists and features, follow @PasteMovies.