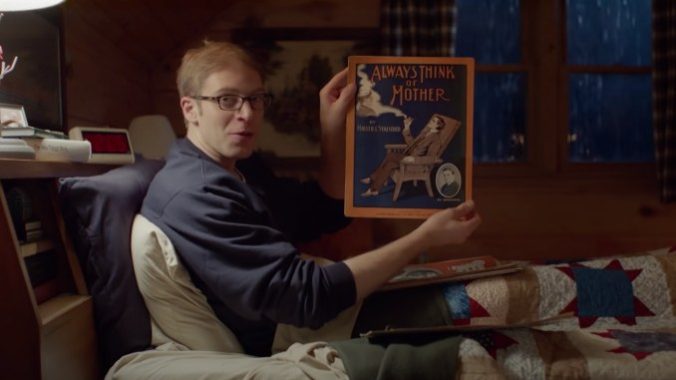 I'm not going to pretend like Adult Swim's premature cancellation of Joe Pera Talks with You is responsible for mass insomnia, but the development certainly didn't help things. The titular comedian's dulcet tones seem made for soothing you to sleep, along with his contemplative examinations of quotidian topics like chairs and beans. Pera has capitalized on the concept before with the animated video Joe Pera Talks You To Sleep, and later the Season 1 episode "Joe Pera Talks You Back to Sleep."
Now, Pera is escorting us to the land of nod with his new podcast Drifting Off with Joe Pera. He's teaming up once more with Ryan Dann, the composer for Joe Pera Talks with You, to create those comforting soundscapes that'll lull us into a deep slumber—or at least a calmer state. The pair also plan to have musicians guest score episodes, which will be released on the first Sunday of each month.
This Sunday the first episode is out, and it'll be all about soup, Pera says: "making soup, eating soup, talking to your friends about sleep." How dreamy.
The podcast will be advertisement free thanks to fans' support on Patreon. Listen to the trailer for Drifting Off with Joe Pera below, and check out Paste's 2022 interview with him here.
Finally doing a Sleep Podcast. First ep out Sunday: pic.twitter.com/GtSRyToYKE

— Joe Pera (@JosephPera) February 1, 2023