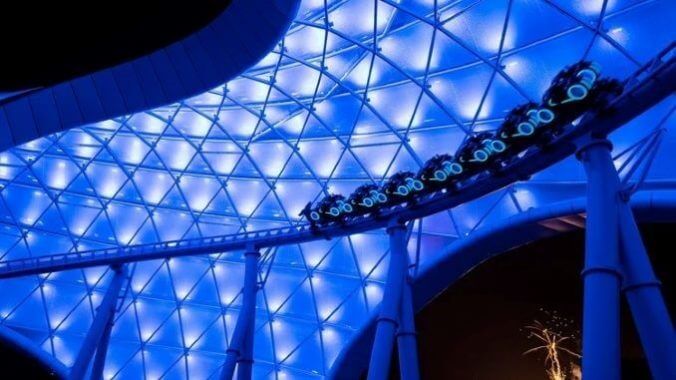 Disney World's latest roller coaster finally has an opening date. TRON: Lightcycle / Run, a motorbike-style coaster based on the Disney series that started with the 1982 movie TRON, will be open to Magic Kingdom guests starting on April 4, 2023, Disney announced via a blog post today.
Lightcycle Run (I'm gonna ditch the slash from here on out) turns the most memorable and popular part of the whole TRON series into one of the fastest coasters at any Disney park. The name should clue you in here: this coaster is based on the lightcycle races that were the most exciting part of both the original movie and the '80s arcade game. You'll hop onto the ride vehicle like you're sitting on a motorcycle and race against a nefarious team of Programs. The first team to blast through eight energy gates wins the whole shebang. And don't worry: you won't be crashing into another bike's light wall at any point.
The Magic Kingdom's version of Lightcycle Run will be Disney's second. The concept originally debuted when Shanghai Disneyland opened in 2016. The original version has gotten good reviews from theme park fans who've visited Shanghai, and is one of the most popular rides at the park, so it only makes sense to bring it stateside. And when it opens in Magic Kingdom's Tomorrowland in April, it'll be the first major new addition to that land in over 15 years. Tomorrowland's been in need of something new for a long while, and Magic Kingdom as a whole needs a new E-ticket (especially with Splash Mountain set to close this month), so TRON can't get here soon enough. It's good to know that it's just a couple months away.
We'll no doubt have more thoughts on TRON: Lightcycle Run once we've had a chance to ride it. We might have to shed a few pounds first, though: this is apparently the most size-restrictive ride Disney's made yet. Just know going in that if you're really big or really tall or (Heaven forfend) both the unique motorcycle vehicles might be a really tight squeeze. We'll find out how tight in April.