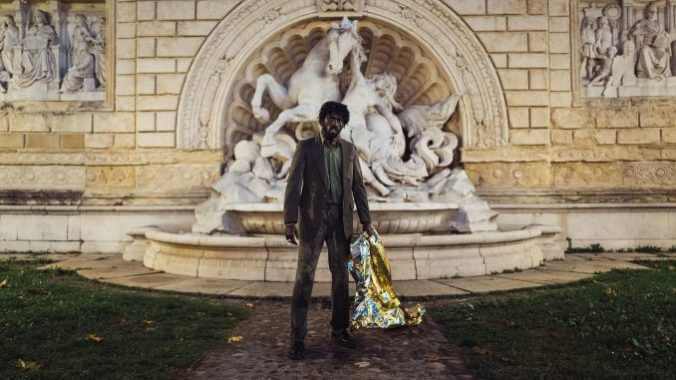 A hands-off immigration myth, Bravo, Burkina! strikes most keenly in its sense of style. Tracking the pendulum swing of a Burkinabè boy from village kite-flier to Italian fashion designer and back again, writer/director Walé Oyéjidé also dressed his cast through his brand Ikire Jones. Though it has the stilted acting, slow pace, on-the-nose dialogue and lazily elliptical storytelling of a first-time filmmaker, Bravo, Burkina! is always wearing something incredible. For all its travel, across the world and through time, the pretty film feels all dressed up with nowhere to go.
The main thrust to Bravo, Burkina! is a romance between our guide through this journey, Aimé (played over time by Mousty Mbaye, Alain Tiendrebeogo and Noël Minoungou), and a woman he meets in Italy, Asma (similarly played by Aissata Deme and Hafissata Coulibaly). Their lightly defined lives connect through a shared slurry of diasporic emotions: Guilt, excitement, mourning. A tower's view of an old-world European cityscape is beautiful, as are the lush and busy patterns on the clothing it has to offer, but so too is Aimé's village in Burkina Faso. There is something liberating about making it away from your community, but it will always lack the vital caress of home.
Navigating Oyéjidé's allegorical tale, which functions as a couched rebuttal to the "grass is always greener" yearning of youthful globetrotters, isn't hard, but it's so broadly drawn over its brief 64 minutes that it's hard to get much out of it. Its fantastical moments are slow and overly spelled out, and its more symbolic elements—like a group of other immigrants Aimé and Asma encounter behind bars—are as flat as its characters. The only consistent throughline is the pop of bold looks.
Aimé wears something different and incredible whenever he's on screen. There are so many fits that it's almost like an hour-long lookbook, with the actors modeling flowing coats made in rug-like textures, vivid silky shirts and rakish ascots. Oyéjidé certainly has a way with color, and a fascination with blending the menswear traditions dominating the ready-to-wear world with the bold, bright drape prominent in West African dashikis. If only he was more interested in spinning out that cross-cultural artistry into his film's narrative or themes. Rather, he relies on his ability to spot a compelling image. He centers many of his standout compositions around stained glass, bodies of water and the creation of textiles, many of which loosely mirror each other across different cultural contexts. Rivers and lakes become fountains; fashion house construction turns to stripweaving. But it's all flash.
When Oyéjidé (who also edited the film alongside Sosena Solomon) tries something with the camera beyond pointing it at something pretty, things get dicey. A handheld sequence lacks nuance or panache; rather than contributing to an energetic scene, shots of young Aimé running through his village with a bright yellow kite streaming behind him are jagged and inelegant, lacking the formal discipline to connect and flow. Blown out to the larger structure of the film, this hiccup-and-spurt progress is always more vague than poetic. Always more opaque than revealing.
It's because while Oyéjidé does seem to be interested in larger themes, he's best at creating simple stills. Strung together, they play less like an experimental film and more like an advertisement for a couture season, taking the inspiration behind the clothes and using it to pad out a fashion-focused short. Remove the lovely garments and you find the static mannequin underneath.
Director: Walé Oyéjidé
Writer: Walé Oyéjidé
Starring: Alain Tiendrebeogo, Mousty Mbaye, Noel Minougou, Aissata Deme, Hafissata Coulibaly
Release Date: January 23, 2023 (Sundance)
---
Jacob Oller is Movies Editor at Paste Magazine. You can follow him on Twitter at @jacoboller.
For all the latest movie news, reviews, lists and features, follow @PasteMovies.