Chad Clark of Beauty Pill Reemerges from His Blue Period
The new collection from the influential D.C. band offers a new perspective on lost classics
2004 photo courtesy of the artist
Music
Features
Beauty Pill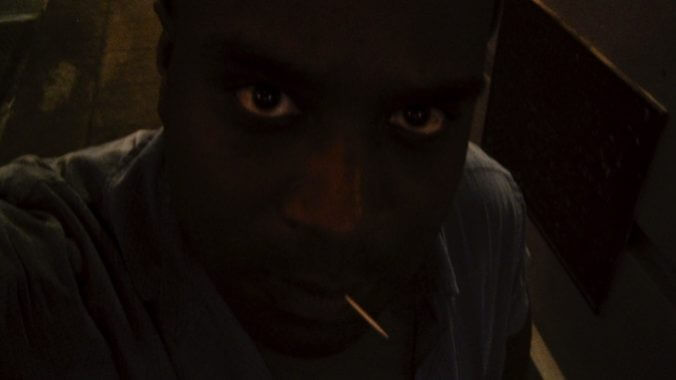 Appreciating and analyzing art is more of an inconsiderate relationship than we'd like to admit. For every bad review we write or shrugged "meh" of indifference, we tend to take a wide step over artists that bled themselves into the fetal position in order to enrich our lives. Good art is typically honest. But, in turn, honest art isn't necessarily destined to be popular or rewarded. That isn't to say deserving works don't eventually get reappraised and lauded over time. But that initial sting of rejection for an artist can linger far longer than a tumultuous press cycle. For musician and producer Chad Clark, the creative risks he took with his influential D.C. band Beauty Pill on their critically maligned 2004 album The Unsustainable Lifestyle and it's corresponding EP You Are Right To Be Afraid are finally getting recognized as pivotal and essential underground releases after almost 20 years. These two releases—along with other unreleased material from their time on the legendary punk label Dischord Records—are getting a justified reissue and first time release on vinyl by Ernest Jenning Recording Co. titled Blue Period. Only a nod to Picasso and the shade of the album art for both of these releases in a humorous way, the collection references a time in Clark's life where, after years of unanimous artistic success, he was sent spinning into a pit of uncertainty he wasn't exactly sure he'd be able to find his way out of.
Connecting with Clark over a long and friendly phone call, he reveals the layered emotions tied with revisiting this new collection. "Memory is not like a computer. Memory is affected by emotion," Clark recalls, "My memory of these things, is feeling hurt a lot. Feeling disappointed and that lasted for a very long time. I'm a sensitive person and that probably colors my ideas of what happened."
Clark had first made an impression on the bursting and burgeoning D.C. scene in the late '90s that centered around Dischord—which is co-run by Ian Mackaye, of D.I.Y. dieties Minor Threat and Fugazi—with his first project Smart Went Crazy. That band went on to release some records that are unanimously regarded as classics of the era, most notably their 1997 swan song Con Art. All the while, Clark had become known around town for his production style—notably being tapped to produce The Dismemberment Plan's gamechanging Emergency & I as well as their follow up Change. He had nothing but good fortune behind him as he started making music with his newly christened project Beauty Pill at the start of the new millennium. The band, which initially included Joanne Gholl and Abram Goodrich, made their debut with the 2001 album The Cigarette Girl From The Future. The album plays like a studied and nuanced variation of the post-punk Clark perfected with Smart Went Crazy, with a much more measured indie-rock approach. When it came time to go into the studio to record it's follow up, Clark invited a newly revamped lineup to fill out the band and push the arrangements into new territories unexplored by the rest of their peers in the scene.
A constant characteristic of the work Clark would make with Beauty Pill, he began working with a brand new set of collaborators that included Basala Andolsun, Rachel Burke, Drew Doucette, Ryan Nelson and Devin Ocampo. Listening to the propulsive mortorik rhythms and lush textures of the opening track on The Unsustainable Lifestyle, "Goodnight For Real," you hear Clark and Beauty Pill taking chances within a vacuum. The song contains Nelson (the band's former drummer) and Ocampo (who is the band's current drummer) trading off the song's beat like handing off a baton, with each kit being recorded to different channels and creating an overwhelming effect coming out of the speakers. "You get this sort of seesaw effect in stereo where Ryan is in your left ear and Devin is in your right ear and you can hear the beat kind of switching back and forth," Clark explains "There's no there's no trickery other than, you know, this beautiful physical thing the two of them did that is propelling the entire song."
The album is full of these kinds of artistic big swings. Dipping their toes into elements of ambient, hip-hop, bedroom pop, post-punk, and shoegaze you begin to lose count of how many genre changes the band attempts throughout the album. Best of all, these forays into different musical stylings never come off feeling like the band is trying to be anything other than themselves. As Clark trades off vocals with co-songwriter and co-writer Rachel Burke, the album's narrative paints a picture of where we were as a society in a post-9/11 world. Certain songs deal with consumerism run wild ("Such Large Portions"), the underground music scene losing its identity ("Goodnight For Real"), uncomfortable conversations to be had regarding the way he was being treated as a black man in a predominantly white subset of the industry ("Won't You Be Mine"), and the growing and paralyzing paranoia that gripped us in times of extreme uncertainty ("Terrible Things").
"I remember being really excited about that about where we were going. I was very optimistic about the record and I had gone through a lot to get to that point," Clark recalls. Once the album was finished, he went through a common practice that many of his Dischord-signed peers in the D.C. area would go through: he dropped off the finished record with a lyric sheet on Ian Mackaye's doorstep. Mackaye's response to the record was "enthusiastic" and for someone who compared Fugazi to the Beatles in our conversation, Clark felt encouraged with the support of one of his artistic heroes. "I like exciting that guy," says Clark, "I think he's a genius. I have a tremendous, tremendous artistic respect for him." But as the album was released, the unexpected critical backlash to Beauty Pill's new boundless sound began to rear its ugly head.
An early champion of Clark's work in Smart Went Crazy, Pitchfork viewed the album as a sign of Dischord's waning relevance. In a 5.7 review, writer Sam Ubl rested the blame of this decline solely on the shoulders of Beauty Pill saying that the record squanders the band and Clark's many talents in order to retread the tired aesthetic of the label. As unjust and short-sighted a criticism as this was, it was written in a time when criticism on such a big online publication could have a serious windfall affect. Similar reviews started to pop up and, in turn, enthusiasm around the band started to diminish. He had come a long way from Smart Went Crazy playing in the middle of a boxing ring in Mexico City with the number of band members outnumbering fans in the audience. The shows began to get smaller and smaller. It seemed like all the momentum Beauty Pill had created up until that point, it seemed as though it was disappearing right in front of Clark's eyes.
Rather than get to work on a follow-up, Clark retreated away from the public eye in order to focus on production work at the famed Inner Ear Studios in Arlington, Virginia. In that time, he felt that perhaps he would no longer release music on his own but rather focus on helping others on their records. To make things worse, Clark was diagnosed with a rare virus known as cardiomyopathy that required him to receive a mechanical heart transplant to save his life. This has been an ongoing and debilitating reality in Clark's life as he has endured constant hospital stays with the pandemic adding a new form a stress to his life as an immunocompromised individual. In the past year, he went through another emergency surgery to replace the mechanical heart, which had stopped working due to a company recall, for a human heart provided by a donor. Perhaps one of the few people on the planet that have gone from understanding the sensation of a human pulse, to an automated whirr sending blood through the circulatory system, and then back again—Clark understands how limited our time is. "I have now survived many situations that I'm going to say should have killed me. It's a weird thing to contemplate."
With his health in question and his wounds still feeling fresh, Clark wondered if he would ever record another Beauty Pill record again. But as time went on, his creative impulses would of course prevail. "I really wanted to quit making music. I tried to quit," he says. "I was really depressed. I was really down and I just tried to let it go. But, I don't know how this sounds, music would not let me go."
After nearly a decade away, Clark and Beauty Pill released their 2015 album Beauty Pill Describes Things As They Are. A unanimous hit among critics, the album built off of the groundwork laid by Unsustainable Lifestyle and You Are Right To Be Afraid cementing Clark and the band as visionaries. With that, like so many bands from that era in need of critical reprisal, Beauty Pill has begun to take back their narrative. Pete D'Angelo of the band's new label Ernest Jenning Recording Co. took a little over a year to convince Clark that he should consider compiling this Blue Period material. After all, it had never been released on vinyl back in the day and he explained that there would be a hungry audience out there that would gladly scoop it up.
Perhaps another factor that lead to the demand of this new archival document, is a new younger generation discovering Clark's groundbreaking work in Beauty Pill. One of his most notable champions is musician and producer Bartees Cox Jr., who many may know as the genre adventuring 4AD signed artist Bartees Strange. Cox hasn't been shy about his admiration for Clark, as he has credited him in interviews as a pivotal force in helping him find his footing as a young engineer and musician getting into the music scene in Washington D.C. As black lead singer in a band signed by Dischord, the racism Clark faced as an innovator in the scenee that paved the way for Cox's success was constant. He recalls countless people making pea-brained comparisons by insecure cis white male fans, complaining why he doesn't sound or look like H.R. of the all-black D.C. legends The Bad Brains. "'You're a new kind of Negro.' I got that more than once," he says. For Clark, seeing Cox succeed is a sign of more accepting times. Reaching out to Cox over email, his response was immediate and overflowing with love for one of the pillars of his hometown.
"Chad's a once in a lifetime artist and human being," writes Cox. "He's a living legend, an anthology of beautiful records and wild ideas. Everyone who's been here a while has a story or kind word about Chad. Old heads and new schoolers respect him equally. The coolest thing about Chad is he represents DC in so many ways. A black man, who hasn't quite been given his due, who continues to make extremely high level art against all odds. His story as an underdog, who won't be one forever, is the story of D.C. music. So many beautiful musicians are from here—but it's not NY or LA. It's its own thing. Chad is the living and breathing version of that. A punk who found art. An artist who found soul. A visionary who makes things that you feel and can't understand. Chad's the greatest and everybody here knows. We all are waiting, quite excitedly, for the world to catch up."
As much as Clark had opened the door for Cox back in the day, he is grateful for his protege hipping new listeners to music he thought would be lost to time. Cox's continuous championing of the music Clark had made during a time where he felt cast aside by the industry and during his current health setbacks and mounting medical bills. "I think Bartees is a genuinely nice person who really has love in his heart," says Clark, "He wants a better life for me. He plays a solo show in Paris and he tells that audience, or he tells some journalist, 'you should really check out this guy Chad Clark.' I think he's saying it kind of as a political thing. He's trying to throw me some energy. He's trying to he's he's trying to use his power. It's the way Kurt Cobain talked about The Raincoats."
Even though listening back to this material has dredged up some painful memories from that time, Clark is now able to place himself back in the studio when the band was young, punching above their weight, and experimenting without a care whether the world would be throwing in their two cents. Hearing the excellent vinyl press with artwork layed out by Ryan Nelson, he now understands why it was a necessity to do this period in the band's history a service.
"I did this for people, other people," Clark explains of the at times painful process of jumping back into his old shoes. "But as I went into it and I was really struck by how beautiful this music is and how heartfelt it sounds."
At the time, Clark had forgotten that you need to lift your shield back up after exposing your vulnerable side. With history proving his instincts correct, he now wonders how different things would have been if he had taken the lukewarm criticism of The Unsustainable Lifestyle in stride rather than retreating completely. Maybe Clark wouldn't have dug himself deep down into his studio work for a decade before releasing more music with Beauty Pill? The band didn't exactly disappear since the release of Describes Things As They Are. In fact, just this last year Beauty Pill—with Blue Period-era drummer Ryan Nelson's wife Erin as a new collaborator—released the fantastic EP Instant Night. According to Clark, the new music they are working on is some of their most adventurous yet. But given what has happened before, would Clark be able to take another bludgeoning from critics if they view don't appreciate his efforts the next time around?
"That is a really good question," Clark responds, taking a beat to weigh the journey this material has taken since it's initial release and to think about where his is as an artist today. "Have I learned from this experience of putting out music that was initially misunderstood or even fairly judged to be not very good?" He asks himself. "Can I recover? Can I be resilient?"
These are questions that so many artists have to reckon with at one point or another. Do you need permission to share whatever shape your art takes authentically or do you need to bend to the current zeitgeist for any chance of relevance? No matter how the dice roll, a thick skin is almost a pre-requisite before scheduling studio time in this day and age. So is Clark willing to accept the outcome no matter what?
"I would hope that I would have the wisdom and the strength from what I've been through," Clark adds. "But I am human and I can't guarantee how I will respond to that. I hope it's a massive hit around the world and people all and it's filled stadiums for people singing those songs, whatever they are. But if it's me playing in a boxing ring to four people, I think that I'll just have to adapt."