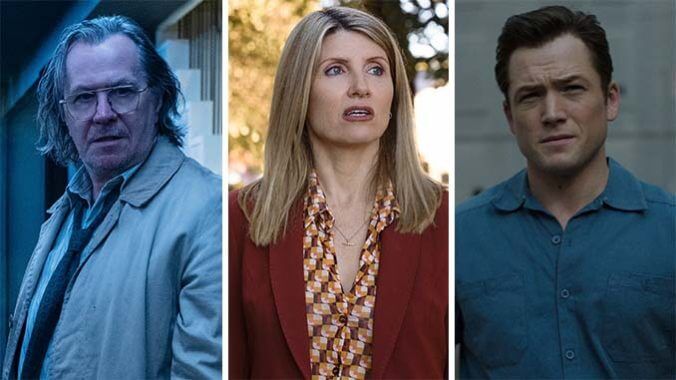 After years of rapid growth and wild spending, streaming is now facing an inevitable reality: the industry as we've known it is unstable and unsustainable. The merger of Warner Bros. and Discovery in 2022 disrupted the upward trajectory of HBO Max—then on its way toward becoming the best streaming service thanks to its breadth and depth—as highly anticipated projects were unceremoniously shelved and beloved shows were canceled and removed from the platform with little to no notice in the name of cost-cutting tax write-offs. Netflix's subscriber loss in the first two quarters (perhaps a reflection of the company seemingly prioritizing quantity over quality?) led to internal strife as stocks plummeted and layoffs affected the king of streaming (the company rebounded somewhat in Q3). Elsewhere, The Walt Disney Company was in such dire straits amid streaming losses that it brought back Bob Iger as CEO to right the ship in late 2022. But in the midst of all this turmoil, there is one streaming service that is quietly trending upwards: Apple TV+.
After a less than auspicious start in November 2019, with no licensed content library and middling original series like The Morning Show, See, and Defending Jacob leading the charge, it was relatively easy to write off Apple as the latest in a long line of wannabes entering the original content business during the Peak TV boom. But while many failed and others are struggling, Apple has one thing they don't—money from its massive tech/hardware ventures. Perhaps because of this, Apple TV+ has apparently yet to reach the critical juncture that many others have (it should be noted Apple is opaque about its streaming health, but it has joined the crowd in raising monthly subscription costs). So in 2023, a little more than three years post-launch, the tech-slash-media company is slowly but surely building a library of not just intriguing originals, but must-see award-winning series, too. Not everyone can say that.
The shift began relatively early, when Ted Lasso became a word-of-mouth sensation in the summer of 2020 and then snagged several awards to back it up. By March 2022, after the critical success of the murder mystery comedy The Afterparty and bold sci-fi drama Severance, it was clear that it was time to start paying attention to Apple TV+ rather than mocking or even ignoring it. With several more high-quality additions to its TV catalogue since then, including the acclaimed Korean family drama Pachinko, the entertaining spy saga Slow Horses, and the award-winning limited series Black Bird, the streaming platform has figured things out to such an extent that it's becoming a legitimate and competent content creator. It's kind of a shame that so few seem to notice or care.
Of course, to be fair, it's not as if everything Apple is churning out is great television—for every gem like For All Mankind or Bad Sisters, there are more series best forgotten, like Invasion and Shining Girls—but a string of high quality series in 2022, on top of the Ted Lassos, Mythic Quests, and Little Americas that set the foundation, is an indicator that Apple has become more adept at identifying and producing creative and compelling projects. And it's all the more interesting that it's doing so while other streaming platforms are struggling.
Slow Horses, adapted from Mick Herron's Slough House series of novels, is one of TV's finest spy series to date. A comedic drama anchored by a superb performance from star Gary Oldman, the show separates itself from the rest of the classic spy genre by focusing on a ragtag group of screwups from the dumping ground of MI5 who can't seem to stop finding themselves in the middle of seemingly innocuous missions that still have major stakes. With two seasons under its belt and two more already ordered, it's become a reliable addition to Apple's growing library in a short time.
Meanwhile, with Severance Apple has a critically acclaimed, Emmy-nominated drama to pair with its critically acclaimed, Emmy-winning comedy Ted Lasso. With Golden Globe, Screen Actors Guild, Directors Guild of America, and Writers Guild of America Award nominations to its name, it's likely only a matter of time before the freshman series, which stars Adam Scott and follows employees of a mysterious corporation who have undergone a procedure that allows them to separate their consciousness into work life and home life, brings home additional hardware for Apple. The multiple guild nods alongside the Emmy and Golden Globe bids is a good sign that the series is a well-liked, well-rounded program, which bodes well for Apple's long-term health.
Elsewhere, Apple's limited series Black Bird, a crime drama developed by Dennis Lehane and adapted from the autobiographical novel In With the Devil: A Fallen Hero, a Serial Killer, and a Dangerous Bargain for Redemption by James Keene with Hillel Levin, is picking up not just nominations but awards as well. During this year's Golden Globes, the first ceremony that's been televised since the 2021 controversy that rocked the Hollywood Foreign Press Association, star Paul Walter Hauser took home the award for Best Supporting Actor in a Limited Series or Anthology. His co-star Taron Egerton was nominated for Best Actor, while the show was nominated for Best Limited Series, though neither won. Approximately 12 hours after the telecast, Hauser and Egerton both received nominations from the Screen Actors Guild for Best Actor in a TV Movie or Limited Series.
But Severance and Black Bird aren't the only Apple series being recognized of late. Bad Sisters, a darkly comedic murder mystery developed by Sharon Horgan, Dave Finkel & Brett Baer from the Flemish series Clan, just snagged WGA nods for New Series and Episodic Drama ("The Prick"). The show, which features multiple timelines, follows five sisters in the wake of the death of one of their husbands, and as the series moves between the present day and six months prior, when the plan was hatched to kill the abusive husband, viewers are mostly left hoping the culprit will be able to get away with it.
Even in the wake of all this success, though, Apple's streaming operation remains a mystery to outsiders, so it is difficult to confirm how many subscribers the service has (the company reported in October 2022 that it has more than 900 million paid subscriptions, though it's not clear how many of those are for Apple TV+). It's also difficult to tell exactly how much money it's earning and burning in an attempt to compete with Netflix, HBO Max, Hulu, Disney+ and others. But Apple TV+ is also only one piece of the massive Apple machine, which means it's not as reliant on a subscriber base to create income. This no doubt works in its favor right now.
Still, with no licensed programming to incentivize those who want a nostalgia fix and a relatively small (but growing) library of original content, even one more balanced in terms of quality than it was a year ago, Apple TV+ remains a harder sell than nearly all other streaming services even at its new $6.99/month price point (although those who buy a new Apple device can get it through a 3-month free trial). But if the platform is able to continue its upward trajectory by prioritizing quality over quantity—new seasons of Ted Lasso and The Afterparty should arrive in 2023 alongside a list of new series like Shrinking—it's possible that Apple TV+'s slow but steady approach to creating original content will allow it to not win the race, but at least emerge as a serious option for consumers. While the Netflixes and HBO Maxes of the world are forced to adjust their strategies to cut costs and accommodate shifting subscriber priorities, Apple TV+ is slowly coming into its own, and no one should be surprised if 2023 is the year that we finally see it break through.
---
Kaitlin Thomas is an entertainment journalist and TV critic. Her work has appeared in TV Guide, Salon, and TV.com, among other places. You can find her tweets about TV, sports, and Walton Goggins @thekaitling or read more of her work at kaitlinthomas.com.
For all the latest TV news, reviews, lists and features, follow @Paste_TV.